Clock is ticking in Milk Marque conversion poll
01/09/05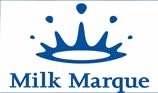 With the first Special General Meeting to decide if Milk Marque is converted into a private limited company being held towards the end of September, the organisation is urging its dairy farmer members in the North to waste no further time in returning their proxy vote.
To ensure their vote is counted, Milk Marque members should return their red or blue proxy form as soon as possible. A 'Yes' vote in favour of conversion into a private limited company will facilitate the issue of £15m nominal value shares to members and eligible former members who produced milk in the 1999-2000 year.
Fred Spurgeon, Milk Marque Regional Co-ordinator in the North of England said "Now we're into September, with the first SGM being held at the end of the month, this is the time for our members to get on and post their proxy forms back to us. Every vote counts and its important we receive as many responses as possible."
For the conversion to take place, a minimum of 50% of Milk Marque members must vote with 75% of those voting in favour. Questions from members or non-members querying their eligibility to vote can answered by phoning the Milk Marque Helpline on 0845 601 9692.