Case IH Launches New Generation of Quadtrac and Steiger Tractors
2010-09-14
In conjunction with new emission legislation effective from 2011, Case IH has introduced a new range of Quadtrac and Steiger models now equipped with the EfficientPower technology with reduced fuel consumption and higher performance. The peak horsepower of 670 hp on the Quadtrac and Steiger 600 models takes power to new heights in the industry.
Case IH Steiger 600


Designed to meet the power, durability, comfort and productivity needs of large-scale farmers, this new generation of Quadtrac and Steiger tractors bring added strengths and value to the industry.
The Quadtrac range
The new line-up includes four models, ranging from 502 up to 690hp boosted peak engine horsepower. Case IH Quadtrac configuration, which uses an independent, four-track, positive drive system minimizes ground pressure and delivers traction to get heavy work done with minimum soil damage.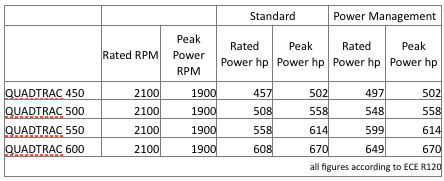 The Steiger range
The new line-up comprises six models, with peak boosted power ranging from 391 to 670hp. The range is built using two designs of frame, a narrow frame for 350-450 models and a high horsepower frame for the 500-600 models.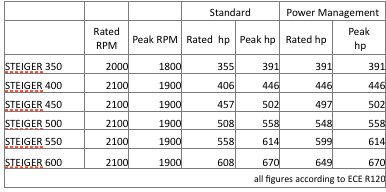 The new Steiger 350, 400 and 450 models have an ideal frame for their power capability, providing an optimal weight-to-horsepower ratio and a structure that fits row crop cultivations. The wider frame of the Steiger 500, 550 and 600 models integrates a new heavier-duty driveline axle and transmission components.
Quadtrac 600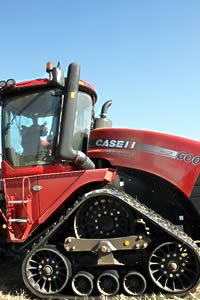 Most powerful tractor on the market
With up to 670hp peak engine horsepower on the Quadtrac / Steiger 600, the Case IH engines with EfficientPower technology are at the heart of each Steiger and Quadtrac model.

All engines use Selective Catalytic Reduction (SCR) technology to deliver power efficiently needed with the lowest fuel consumption and emissions.

Power Boost provides extra engine horsepower needed for navigating undulating fields and roads or meeting the higher PTO and hydraulic power requirements of more demanding implements.

The Steiger 350 features the proven 8.7-liter engine, used in the Case IH Axial Flow 7120 combine, and is now Tier 4A compliant for the new Steiger tractor.

The Steiger 400 and Quadtrac / Steiger 450 and 500 models also harness the same 12.9-liter, Tier 4A emissions compliant engine as the larger models. For the Quadtrac / Steiger 550 and 600, the 12.9-liter engine is equipped with a two-stage turbo. The secondary turbo providing increased Power Management to the primary turbocharger, which helps maintain maximum torque rise and rpm to ensure maximum power. This helps deliver the highest power needed with the lowest fuel consumption and emissions. The proven 12.9-liter engine is used in Quadtrac / Steiger tractors and the Case IH 9120 combine.

Fuel-saving Case IH EfficientPower technology
All Case IH equipment over 100 horsepower will ultimately utilise Selective Catalytic Reduction (SCR) technology to meet emission standards. SCR technology runs separately from the main engine function by treating the exhaust "post-combustion". This post-combustion process offers several advantages to owners and operators, in that it minimizes fuel consumption and runs cooler during high-horsepower applications. It also lengthens service intervals because the post-combustion process preserves the physical properties of engine oil, which in turn reduces maintenance requirements.

All-New: Operator Environment
Already boasting the largest cab in the industry with industry-leading visibility, Case IH upgraded the Quadtrac and Steiger Surveyor™ cab for the best comfort during long days in the field. Evolving around feedback from customer clinic groups, the new cab is designed to make a day's work easy. Because tractors are subject to constant jarring and bouncing during field work, the Surveyor Cab now offers a new, exclusive suspended cab option. This stabilizes and dampens front-to-back, side-to-side and up-and-down motions, creating a smooth, more controlled ride.

Steiger and Quadtrac tractors now feature an exclusive 40-degree, right-hand swivel seat which provides operators with a more ergonomic, 180-degree field of vision to see the front of the tractor, while also monitoring the implement behind.

New MultiController armrest console
Several cab controls have been relocated to the upper right-hand side of the cab headliner within easy reach, while the most frequently used functions are contained in the new MultiController armrest console. The MultiController armrest controls up to eight hydraulic remote valves, shifting capabilities and the automatic end-of-row function.

A new AFS Pro 700 colour display is integrated into the MultiController armrest, and moves with the operator's seat. The AFS Pro 700 allows control with modern simplicity not only of AFS AccuGuide autoguidance functions, but also other tractor functions, such as hydraulic flow. The AFS Pro 700 can be customised to display key tractor operating information most important to the individual for any give application.

All Steiger and Quadtrac tractors are equipped with the Automatic Productivity Management (APM) to automatically select the best gear and engine speed combination. No matter what implement is being used or what terrain is being navigated, while APM is activated the operator only needs to select the desired ground speed.

Featuring one of the quietest tractor cabs in the industry, we also carry over the unique elevated foot rests to provide an alternative, ergonomic position for operators' legs. Increased storage areas and power outlets accommodate cell phones, laptops, MP3 players and more.

Innovation beyond the cab
New electronic positioning remote control valves provide more precise flow and repeatability. The Twin Flow system with up to 428 litres per minute is more than enough flow for bigger implements and eliminates the need for additional hydraulic pumps. It also automatically compensates for viscosity changes from temperature fluctuation.

New HID lighting package brightens up the night
An exclusive lighting package with more lighting power and adjustable HID lights enhances night time vision by providing 360-degree lighting in the field. The lighting system is five to six times brighter than standard lighting systems, and the HID lamps last 6,000 hours longer than traditional tractor lights.

Unmatched serviceability gives maximum productive time
Despite being the largest, most powerful tractors on the market, service on Quadtracs and Steigers is simple and convenient. All day-to-day servicing such as transmission, oil and hydraulic fluid checks can be done from ground level. In all tractors, fluid-level sight gauges are visible from the ground, which minimizes the need to climb up and down tractor steps. Steiger tractors also feature a new front upward-opening hood design that provides quick and easy access to engine components.

First to implement automotive class VI red paint for extended colour
For enhanced long-term appearance, Quadtrac and Steiger are the first tractors in the industry to adopt durable Class VI automotive-grade paint. This helps minimize paint fade and weathering from exposure to precipitation, dirt, wind and sun, extending the tractor's appearance for optimal trade-in value.

World-Class Steiger and Quadtrac tractors feature:
? Highest hp on the market
? Increased fuel efficiency with SCR technology and APM
? Tier 4 emissions compliancy
? Industry's largest, most comfortable cab with increased visibility
? Industry's first suspended cab option
? Exclusive 40-degree, right-hand swivel seat
? Exclusive MultiController armrest
? First to implement automotive class VI red paint for extended colour
? Improved hitch and hydraulics
? Outstanding traction with biggest tires RCI49 on the market, or the unique Quadtrac system.

Working Demo Launches Yorks McCormick Tractor Sales Outlet


Kuhn Farm Machinery at Tillage 2010


No Limits RTK for Free from Case IH