No Limits RTK for Free from Case IH
2010-09-08

Case IH puts customers in front with free RTK nationwide. Farmers, growers and contractors can all benefit from RTK VRS at zero additional cost! Repeatable precision with no boundaries is here.
RTK because our customers said so!
"Until you have RTK, you perceive it as just being a luxury; once you've used it and worked with this technology it simply becomes a 'must have'."
"Driving with AFS AccuGuideTM – that is something our operators really appreciate. A long working day in the cab is now less tiring and we get better results, especially when working at night."
"We can work more efficiently because now we can concentrate on the seed drill instead of on steering in the right direction."
"We can drive in the same tracks every year, which causes less soil compaction and also increases yield as a result."
"To my surprise we have been able to increase our productivity by 15-20 percent thanks to faster driving speeds. For our 400 hectares with grain crops and rape this adds up to a total saving of around 65 hours with the seed drill."
Details of the offer
All new machines purchased with AFS AccuGuide TM will be upgraded to RTK VRS for free. This means we supply the GPRS modem and SIM card at no charge and also pay the first year subscription to Trimble VRS Now. All customers who order a vehicle over 165 hp with electronic remote valves will be eligible.
What is RTK VRS? & How does it work?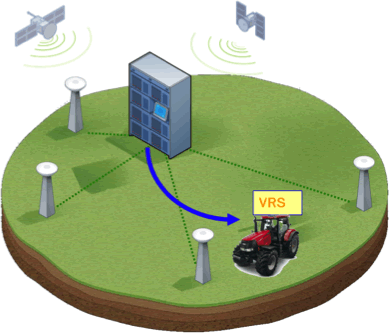 RTK VRS is a correction signal delivered to the tractor or combine by using the GPRS mobile phone network. The actual data exchange is done by a SIM card and GPRS modem mounted in the vehicle cab. The correction data comes from a central Trimble VRS NowTM server, which is continually monitoring and analysing data from 115 RTK base stations spread across the UK.
Case IH utilise the GPRS mobile phone network and the Trimble VRS NowTM data to deliver 2.5cm RTK accuracy to any UK customer, provided they have mobile phone coverage on their farm

Complementary Technology
Don't be confused - if you are currently successfully using a radio-based RTK system, either with your own base station or as a part of a network, this will continue to be a solid solution for the foreseeable future. However, if you are getting into precision farming as a new user in an area not covered by a traditional RTK network, want to use RTK, and farm in an area with good mobile phone coverage, it is definitely worth checking out RTK VRS.
Scenario 1:
A contractor with two vehicles and a customer base over a 50km radius in rolling terrain.
Answer: Adopt subscription based RTK VRS so all customers are immediately covered. (Installing several base stations to provide coverage would be prohibitively expensive).
Scenario 2:
A large vegetable grower on flat land with six vehicles running within 10km of the farm.
Answer: Install one base station, maybe a repeater, and run all vehicles for free (large investment, no yearly subscription).

Dr John Stafford President-Elect of New Precision Agriculture Society


New McCormick CT55U Expands Utility Tractor Range


Droplet Size Details Help Growers with Air Inclusion Nozzle Choice