Working Demo Launches Yorks McCormick Tractor Sales Outlet
2010-09-13
A new business venture between Barnsley farm machinery dealership N&S Moorhouse and the distributor of McCormick tractors in Britain was launched with a working demonstration of tractors and equipment close to the company's premises at Barugh.
Moorhouse salesman Ed Tinker is delighted with the response from customers who placed orders for nine tractors within days of the new partnership with McCormick being agreed.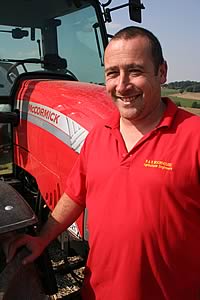 Farmers visited the event to find out more about the newly-signed partnership between AgriArgo UK based at Harworth near Doncaster and the dealership run by Stephen Moorhouse, his son Nigel and daughter Tammy. They now represent the McCormick marque in an area that extends from east of Barnsley and Wakefield westwards beyond Halifax and between Sheffield in the south and Keighley in the north of the territory.
"It's like a fresh start for us; working with our previous franchise had become very stressful and we wanted a change," says Stephen Moorhouse. "The AgriArgo operation was the most professional of the three we considered and the McCormick product range will suit our customers very well."
As if to prove his point, farmers placed orders for seven new tractors within days of the agreement being signed and a further two were confirmed at the working demonstration, where a cross-section of McCormick models was put through their paces.
"Good weather kept some people at home combining and baling but those that did call in were there with genuine interest in the product and what we're doing," says salesman Ed Tinker. "Some tractors have become too complex with electronics that simply baffle people; a key selling point of the McCormick tractors now is their relative simplicity and good value."
Stephen Moorhouse agrees: "Anyone with a bit of common sense can drive these tractors," he says. "They're also comfortable and competitively priced."
Several different models were demonstrated from a McCormick line that extends from a 23hp sub-compact through a good choice of workmanlike four- and six-cylinder models to the flagship TTX230 that tops out at 225hp.
Two McCormick tractors – a 141hp MTX150 and a 92hp
C100-Max – are put through their paces during the
N&S Moorhouse working demonstration.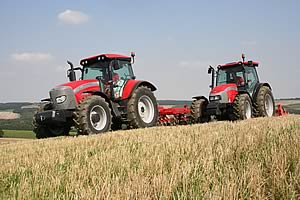 The top-end XTX and TTX tractors feature a 'boost engine' that automatically generates additional power for pto work – and also transport operations on most models. They also have the unique XtraSpeed transmission, which has eight powershift speeds to help drivers get the best performance as easily as possible.
"The biggest tractor we've had ordered so far is an XTX145 developing 145hp for draft work and up to 156hp for pto and transport work," says Ed Tinker. "Others include a little 28hp CT28M compact, 100hp CX110 and 126hp MC130 four-cylinder models, an MTX135 and four 80-90hp C-Max tractors."
His favourite is the C-Max; because of its simple, straight-forward build and easy driving characteristics Ed thinks it will be a popular tractor on stock and mixed farms in the area.
Whichever McCormick models farmers choose, Stephen Moorhouse is determined to support them as best he can: "Customer service is the bedrock of our business and we'll make sure that continues with the change of franchise," he says.
"When farmers are pretty much working around the clock, we need to support them whenever they need help with a repair, parts or routine servicing," he explains. "That's what we try to do – and bearing in mind the number of customers who have already changed their make of tractor to continue working with us, I suppose we must be doing something right!"

Kuhn Farm Machinery at Tillage 2010


No Limits RTK for Free from Case IH


Dr John Stafford President-Elect of New Precision Agriculture Society