Kuhn Farm Machinery at Tillage 2010
2010-09-10
Kuhn Farm Machinery will be displaying a range of cultivations and drilling equipment at the 2010 Tillage demonstrations in Lincolnshire and Angus as well as taking part in the new sprayer programme now incorporated into these events.
Kuhn's Seedflex disc coulter system improves soil penetration and consistency of sowing depth and is now available on Venta LC pneumatic drills as well as Venta NC and Moduliner models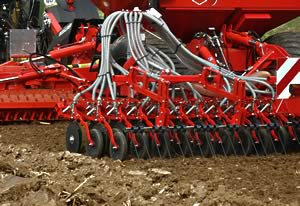 Comprehensive Drill Range

KUHN now claims to have the widest drill range on the UK market, with solo and combination machines now available to suit the full spectrum of conditions and requirements.

Tillage 2010 provides the opportunity for KUHN to highlight the newest models from its high speed solo range as well as the latest combinations.



Megant with Quantron S electronic control

KUHN'S Megant tine coulter pneumatic seed drill is now available with Quantron S electronics, offering users versatile high-speed drilling with greater control and flexibility.

Seed metering is orchestrated fully electronically, with a forward speed sensor and electric motor replacing a conventional land wheel system. This allows pre-metering in corners and at headlands, and early shut-off at the ends of rows, so overall accuracy and efficiency is greatly enhanced. Quantron S also allows seed rate adjustment on the move, and infinite seed rates within the machine's range.

The Megant is suitable for minimum cultivation or for rapid sowing in heavy and rocky soil. It incorporates a patented tine-fixing design that ensures good penetration and a constant seeding depth. When it meets a large obstacle, the tine has a vertical clearance of almost 20cm, and tine placement in 4 rows makes drilling easier even where there is heavy plant residue.

The Megant comes in six working widths from 4 - 6 metres (4.0, 4.5, 4.8, 5.0, 5.6, and 6.0) and uses the highly successful Venta metering system with a 1700 litre hopper as standard.

Kuhn's Speedliner disc seed drill offers the versatility of operating on ploughed soil or minimally tilled stubbles.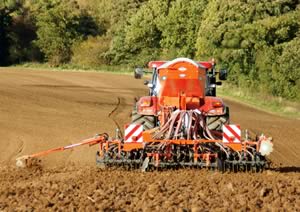 Versatile minimum tillage drill

KUHN'S new Speedliner drill offers rapid and economical drilling, having the capability of working on ploughed land, minimal cultivated land, or as a direct drill on well-drained soils.

Lighter than earlier KUHN minimum tillage drills, the Speedliner has a reduced horsepower requirement and is available in 3, 4 and 6 metre formats, with the 4 and 6 metre machines being hydraulically foldable to 3 metres.

In the minimum tillage format, soil is worked with two rows of curved and offset discs and then pressed with a large diameter tyre roller. Double disc seeding units are mounted on a parallelogram arrangement, and pressure is adjustable from 20 to 70kg.

Seed distribution is based on KUHN'S established Venta pneumatic system, and the hopper is mounted sideways for improved visibility. The seeding unit is hitched through a category III 3-point hitch for rapid release.


Seedflex coulter system increases accuracy and versatility

A new disc coulter bar system that improves soil penetration and consistency of sowing depth will be shown at Tillage on KUHN'S Venta LC pneumatic seed.

The Seedflex system, first launched on KUHN'S Venta NC and Moduliner ranges, is now available on 3m, 3.5m and 4m version of this machine.

"Seedflex disc coulters operate with a downward pressure of 35-40kg, which is 25% more than was possible on earlier LC models for example," explains Robert Garthwaite. "This feature, together with the reduced soil contact resulting from the coulter design, gives the drill significantly better penetration.

"Each coulter unit is mounted on its own independently moving parallelogram system, which ensures a consistent sowing depth at each row and across the width of the drill.

"In summary, the Seedflex system means the Venta and Moduliner drills have greater versatility, being able to operate accurately in a wider range of drilling conditions."
Other key features include the good clearance (35 cm) between 2 rows of discs and – for simplicity and ease of operation - central adjustment of coulter pressure and seeding depth.

In-cab electronic control is facilitated through the Quantron S system, allowing features like on-the-move seeding rate control, pre-metering for start-offs at field corners, and early shut off of metering at the end of a field run.

The basic equipment also includes hydraulic lifting of the coulter bar for good height clearance when turning, and coulter bar guidance by the packer roller for optimal ground following irrespective of working depth.
Kuhn Takes Part In Tillage Event Sprayer Demonstrations
KUHN Farm Machinery's increasing presence in the sprayer market will be confirmed at Tillage 2010 as the company takes part in this inaugural programme.
Kuhn will be demonstrating the trailed Atlantique sprayer
at 2010 Tillage Events.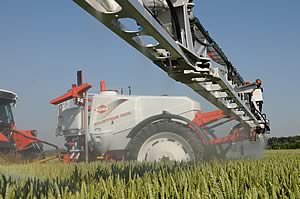 Trailed model performing

The machine to be demonstrated will be the trailed Atlantique, which is available with 2,400, 2,800 and 3,200 litre tank capacities and 18-30 metre boom widths in steel/aluminium or aluminium construction.

The Atlantique has hydraulic boom slanting and a boom height that is adjustable from 0.7m to 2.2m. The axle track width can be adjusted from 1.5 to 2.25m to be compatible with the tractor track. There are also three different drawbar positions so that the frame remains horizontal at different coupling heights.

The Atlantique operates with a robust and accessible piston pump, with an output of 265 litres/minute.

There are three control box options on the Atlantique, with the more basic DPS facility having an hydraulic function selector (opening / closing booms, tilt correction, etc) as well as in-cab pressure adjustment and electrical sequential section shut-off. The more advanced RSB3 box allows direct output measurement, application rate adjustment, simultaneous forward speed and output display, data storage and sequential shut-off. The REB3 controller is based on the RSB3, but provides a wider range of functions for the professional user. These include pressure variance warning and automated boom lifting and lowering to pre-set heights.

Other trailed sprayers in KUHN'S range include the Baltique (2400 – 3200 litres), Grand Large (up to 3900 litres) and the Oceanis (4000 – 8000 litres).


Mounted sprayers

KUHN will also display machines from its tractor-mounted range at Tillage, including the Deltis that was on display in the UK for the first time.

According to the company's UK sales manager Duncan McLeish, all the models in the range are designed to meet the requirements of UK arable farmers and will offer some significant advantages for many.
The Deltis, with compact polyethylene tanks and forward centre of gravity, is available at up to 1200 litre capacity and 24 metre boom width for tractors of limited size.
"This machine is notable for its suspended mounting, which reduces the stresses on the machine when in transport. More damage is done to sprayers in transport than when in use in the field, so this is an important advantage and again shows that the design is focused on low maintenance and longevity."

Other mounted sprayers in KUHN'S range include the Omis (600 – 1200 litres) and the Altis (1300 – 1800 litres).

No Limits RTK for Free from Case IH


Dr John Stafford President-Elect of New Precision Agriculture Society


New McCormick CT55U Expands Utility Tractor Range