Ritchey Extends Product Range to Include Prattley
2011-12-20
Ritchey Ltd is delighted to announce that it has been appointed sole UK distributor for Prattley animal management systems.
Prattley Tru-Test system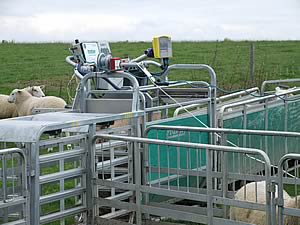 New Zealand-based Prattley Industries design and manufacture a world-leading range of stock handling equipment including mobile sheep yards, races and manual and automatic drafting systems.
Prattley's Managing Director, Graeme Ward comments, "We have an excellent relationship with Ritchey's parent company Tru-Test here in the southern hemisphere and we are looking forward to working with the Ritchey team to develop our brand in the UK".
"This is fantastic news for Ritchey and for UK farmers" says Neil Pamplin, Field Sales & Technical Support Coordinator for Ritchey. "The Prattley range fits neatly with our Tru-Test weigh bars, indicators and EID readers to create clever and practical livestock management. An integrated system means it's possible for a stockman to single-handedly weigh and draft up to 13 sheep per minute and use the data collected via EID to assess the productivity of his flock."
Prattley products will be available through Ritchey stockists and will also be supported by a specialist Technical Support Team. "We understand the need to tailor each package to the customer's specific requirements, so our advisors will be able to go on farm to discuss individual livestock management systems" adds Neil.
For more information call Ritchey on 01765 689541 or visit www.ritchey.co.uk to watch a video of a Tru-Test system and Prattley 5-way autodrafter in use.

Tamnamoney Flock Shines at Northern Stars Texel Sale


Champion Beltex Ewe to 3,200gns at Lanark


Beltex Ewe Lamb Tops Carlisle at 4,000gns