Tamnamoney Flock Shines at Northern Stars Texel Sale
2011-12-20
Last Saturday's Northern Stars sale of Texel females at Ballymena Mart, Northern Ireland, saw an entry from Roger Strawbridge's Tamnamoney flock shine the brightest among the 77 head sold collecting an 11,000gns bid.
Tamnamoney Northern Stars 11,000gns gimmer
photo Alfie Shaw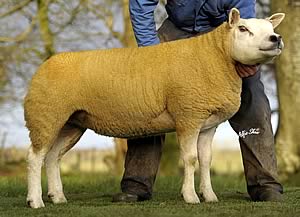 Mr Strawbridge's sale topper, from his Coleraine-based flock, was SRY1000054, an ET bred Mullan Playboy daughter out of a dam by Castlecairn Kennedy and going back to Knock Impulse. Sold in lamb to Procters Subaru, this one is a full sister to the 2011 Royal Ulster Show breed champion and was bought by Adrian Liggett, Fintona, for the Corbo flock.
Second best of the sale was a 4000gns call from teenager Michael Smyth of the Foyleview flock when buying another of Mr Strawbridge's Tamnamoney consignment. This was SRY1000064 another by Mullan Playboy and this time out of Castlecairn Ion Rocket daughter from the best family in the flock.
She sold in lamb to 12,000gns sire Sportsman's Scania and saw Mr Smyth re-investing some of the 46,000gns he earned at Lanark in August when he sold Foyleview Superstar, a tup lamb bred from a Tamnamoney ewe.
Following that came a pair of 2600gns bids, with the first made for the first in the ring, QDA1000008 from David Warwick's Braehead flock. This is an ET bred Mullan Photogenic daughter out of a dam by Tamnamoney Navvy. Sold in lamb to Tamnamoney Rob Roy she found a new home with Alastair Gault's Forkins flock.
Second to make this money was yet another Mullan Playboy daughter from the Tamnamoney flock. This one, SRY1000003, is out of a dam by Douganhill McFly and sold in lamb to Duncryne Ringmaster and was knocked down to Paul O'Connor for the Drumgooland flock, Seaforde.
Selling at 2400gns was another from David Warwick's Braehead flock, QDA1000068. This Milestone O'Gara daughter is out of a dam by Tamnamoney Navvy. Selling in lamb to Humestone Starbuck and going back to Cornerstone Isaac she was sold to D A and N Simpson, Ballyrobert, for the Cornerstone flock.
And a brace then shared the next best price tag of 2200gns. Taking the first of these two calls was Alastair Gault when he sold Baltier Nailer daughter, GAF1000012 from his Forkins flock. Out of a dam by Douganhill McFly she was sold in lamb to Procters Subaru and was bought by A Donnelly, Claremorris, Co Mayo, Eire.
The other to sell at 2200gns also headed out of the province, selling to Gordon Gray and family, Selkirk, for the Ettrick flock. This was another Forkins entry, GAF1000009, another Mullan Playboy daughter out of a dam by Douganhill McFly which was also dam to 26,000gns tup Forkins Nijinsky and 16,000gns Cherryvale Nijinsky.
Averages; 77 gimmers £934.50

Champion Beltex Ewe to 3,200gns at Lanark


Beltex Ewe Lamb Tops Carlisle at 4,000gns


Caltech Hampshire Down Commercial Flock of the Year 2011