Watson & Brookman Hoppers Feature Twin ProClean Nozzles
2011-12-22
Britain's leading specialist manufacturer of stainless steel crop sprayer tanks, fixtures and fittings, Watson & Brookman, has developed new pesticide induction hoppers equipped with twin container rinsing nozzles.
A 25-litre Watson & Brookman induction hopper with the Hypro ProClean spinning and blade nozzles installed to thoroughly clean all sizes of pesticide containers and all types of residues.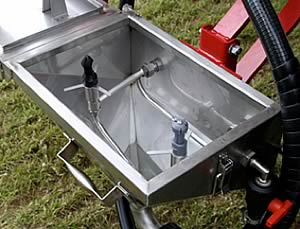 This unique format will exploit the complementary cleaning action of the ProClean rotating multi-spray nozzle and the ProClean Plus blade jet produced by Hypro-EU. Together, the two rinsing devices ensure that pesticide containers of all sizes can be cleaned thoroughly and quickly using the minimum amount of water.
"The new hoppers bring our rinsing technology to sprayer operators in the most convenient and effective way possible," says Roger James, Hypro-EU product manager. "The ProClean, with its rotating water jets, is a proven rinsing nozzle; but with a powerful blade-shaped jet, the static ProClean Plus nozzle adds a new dimension for cleaning large containers and removing persistent residues."
Watson & Brookman specialises in stainless steel products, constructing often intricately-shaped sprayer tanks at its Chawston works near Bedford. The company also makes mixing bowser tanks, manifolds and spraylines.
Most of the chemical induction hoppers fitted to UK-built crop sprayers are produced by the company, including the 15-litre 'mini' hopper for small mounted and specialist sprayers, and the regular 25-litre unit widely used on mounted, trailed and self-propelled machines.
"We produce a conversion kit for operators wanting to install the second rinsing nozzle into our regular 25-litre Mk2 hopper on a new or existing sprayer," says Tim Watson. "It's a bit cramped for rinsing larger containers, though, so we now make the same design a bit wider, which increases its volume to 30-litres and is more convenient to use with the twin nozzle system.
"The new 50-litre hopper fitted with the twin Hypro nozzle system is designed for larger trailed or self-propelled sprayers as original equipment," he adds. "It really suits operators who use a lot of 20-litre pesticide containers because there's plenty of room to move them about over the fixed blade nozzle."
All the hoppers can have a rear-hinged or sideways opening lid with pylons to support up to three containers while they drain. Water accumulating on the lid goes back into the hopper when it is closed and pressing the lid activates the ProClean nozzle to clear any residues from the underside.
Hypro-EU developed the ProClean spinning nozzle in response to calls for a more durable and more effective container rinsing device.
"It produces rotating jets that project upwards into the main body of the container but also downwards to clean the neck area and handle," notes Roger James. "Our tests show it will rinse containers to the required standard faster – and therefore using less water – than other designs."
To rinse the largest containers and to remove the persistent, sticky residues that some pesticide formulations leave behind, something quite different is needed.
"The ProClean Plus is a static nozzle producing a powerful blade-shaped jet of water that strips residues away from the base of the container," explains Mr James. "Placing a container over the nozzle at an angle and moving it around in a circular motion will remove the worst of any residues; then, a rinse from the spinning nozzle ensures a thorough clean in corners, around moulded handles and the neck."

McCormick Tractor Highlights Rural Equipment Theft


New Case IH Maxxum EfficientPower Series Tractors


John Fox Celebrated at Institution of Agricultural Engineers Dinner