Inaugural East of England Smithfield Festival a Massive Success
2011-12-09
The inaugural East of England Smithfield Festival, Peterborough, the new home for the Royal Smithfield Club's pirmestock championships saw a bumper crowd around the judging rings on both days of the Show, with visitors and stock forward from all corners of the UK.
T op prize in the primestock cattle classeswent to
Allanfauld Fizz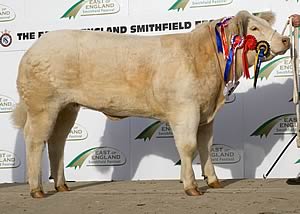 In the cattle rings it was once again the turn of the Scottish to claim the top prize in the primestock classes, with a fairytale fourth win for Oban, Argyll-based Ewan MacPherson and sons, Donald and Ewan, when they took the supreme cattle title with their Charolais heifer, Allanfauld Fizz.
This one, bred by Archie MacGregor and son, John, at Allanfauld, Kilsyth, is by Elgin Davinci and out of Allanfauld Carolyn, an Allanfauld Vangogh daughter. Tipping the scales at 604kg, she was bought by Donald MacPherson from Caledonian Marts in April of this year for £1700 when she was reserve champion at the special sale of show potential cattle.
Born in April 2010, Fizz was bought with Smithfield in mind and was the pick of judge Tecwyn Jones for her style, correctness and evenness of flesh. "She's the perfect show beast," said Mr Jones. "She has the body and the correctness to match."
Fizz, the first purebred beast to win the Smithfield championship since 1979, went on to top the show's auction selling for £9000 to pedigree breeder Fred Murray, Wooler, Northumberland. She was also Continental purebred and overall purebred champion at the show.
Reserve overall purebed champion was Buck Fast, another Charolais heifer, this time from Northern Irish exhibitor, Dermot Small. She weighed 622kg and had stood second in her class to Allanfauld Fizz.
Standing reserve overall champion was the overall steer champion I'm Your Man, a Limousin cross from Michael and Melanie Alford. This one which is by Goldies Oswald and is a full brother to 2006 Royal Smithfield Christmas Fair champion The Deer Stalker. He sold at £4.35/kg to L Brown and Son, Lincoln.
The MacPherson's enjoyed further success when winning the reserve overall steer championship with their Limousin cross Rockafella. Bred by James Alexander, Randalstown, Northern Ireland, this one was bought privately and weighed 544kg. He is by Hightown Cassius. Reserve overall heifer champion was Arfon Jones' Limousin cross Secret Obsession, a 710kg entry.
Winning the purebred native championship in the cattle rings were George and Aileen MacFadzean, Woodhead of Mailer, Perth, with their Aberdeen-Angus steer, End of the Line, a March 2010-born 630kg entry.
Reserve purebred native champion was Superstar, a pure September 2010-born 430kg Galloway heifer from Michael and Melanie Alford, Devon.
And the MacFadzeans continued their winning ways when they won the crossbred native steer championship with their Aberdeen-Angus sired steer Ben 10, another born in March 2010 and weighing in at 608kg. Reserve to them this time was Elfed Williams with his Aberdeen-Angus cross steer Black Bill which weighed in at 648kg, having been born in May 2010.
Taking the crossbred native heifer championship was Michael Kirby, Somerset, with his Aberdeen-Angus cross heifer Miss Marmite. This April 2010-born heifer weighed 656kg.
The MacFadzeans also won the reserve native crossbred heifer championship with an Aberdeen-Angus cross heifer, Upsy Daisy. This March 2010 heifer weighed 610kg.
In the Baby Beef classes it was a win for Northumberland-based John Smith-Jackson with his Limousin cross calf Golden Eye. Sired by Shire Apollo this one has previously been reserve Baby Beef champion at Agri-Expo in October.
Reserve honours here went to Kevin Ludgate, Leighton Buzzard, with his Limousin cross heifer, Daisy. Sired by Wilodge Vantastic she was on her second outing having been calf champion at the South East Primestock Show the previous week.
Winning the Kings Cup for the best beast bred by exhibitor was Welshman Will Owen with his Charolais cross steer Dazzler which tipped the scales at 638kg. Standing reserve to this were Hugh and Lynn Dunlop, Ochiltree, Ayrshire, with their Charolais heifer Queen Bee which weighed 604kg.
And winning the prestigious Duke of Norfolk Trophy for the best team of three purebred cattle were the Limousin team. In this team were Powerhouse Frigate from Elfed Williams, Wilodge Flawless from Christine Williams and Paul Tippetts and Hightown Fantasy from Andrew Richardson and Jennifer Hyslop.
Frigate, a Soleil son bred by Colin and Wendy Philips is out of Chatsworth Bridgette and weighed in at 582kg. Homebred Wilodge Flawless is by Objat and out of Wilodge Diamante and tipped the scales at 538 and Hightown Fantasy is by Brontemoor Andover and was bred by John Smith-Jackson. She weighed 457kg and is out of Newsham Nina.
Limousin sired cattle then took a one-two in the East of England Agricultural Society Classes for exhibitors which had shown at both the East of England Show in June and the East of England Smithfield Festival. Leading this line up was Cher, a 596kg Limousin cross heifer from Trevor and Jonathan Lyon, while reserve was Ali Kat from Mike and Jean Dickens, Milton Keynes.
Winning the Beef Ribs competition at the Festival was Robert Needham with a rib from a Lincoln Red heifer. This beast, a March 2010 born entry weighed 317.1kg deadweight. Reserve here was Michael Read with a rib from a 375.3kg British Blue sired heifer carcass.
Overall live sheep championship winning pair of
Blue Texel cross Texel lambs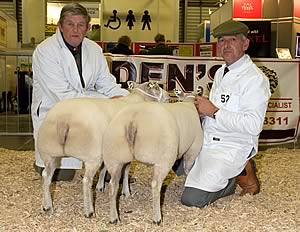 Taking the overall live sheep championship were David and Linda Wadland, Daventry, with their 98kg pair of Blue Texel cross Texel lambs. These had earlier been named Continental champions by judge John Hall, Carlisle. In reserve Mr Hall chose a pair of Dutch Texel lambs by Luggsmill Dylan from Andrew and Becky Bishop, Gloucestershire. This pair clinched the Continental purebred championship too.

These tipped the scales at 87kg and pipped the native champions, a 101kg pair of purebred Southdowns from Messrs Wakeham-Dawson and Harmer to the reserve spot. This duo also took the Sir Richard Cooper Memorial Trophy for the best pair of purebred native lambs.

Reserve native sired lambs were a pair of Suffolk cross Beltex lambs from Malcolm Stewart, Brotherstone, Melrose. These are by a homebred high index sire from his Sandyknowe flock.

And Suffolks enjoyed continued success when Merrick and Julie Pinny, Northamptonshire, took the event's carcass championship with a Suffolk cross Beltex carcass which graded E2. Reserve to this was a Dutch Texel from Robin Slade, Herefordshire, which graded E3L.

English Winter Fair Livestock Showcase


Livestock 2012 - Dairy Event Rebranded


Spot the Spotted Sheep for Children in Need!