New Combines from Case IH Have More Power and Capacity
2011-11-07
Case IH will be using Agritechnica to unveil its latest range of Axial-Flow combines. As before, two three-model series will offer customers a wide choice of power and capacity and build upon the Axial-Flow combines' proven ease of use and reliability.
Axial-Flow 230 Series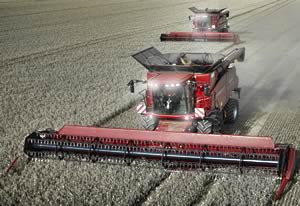 The new Axial-Flow models meet the latest Tier 4 emissions regulations and Case IH has taken the opportunity to make significant enhancements to the two series including new engines, front tracks and enhanced grain tank auger control.
The Series 130, which replaces the 88 Series, sees rated power increase to 353hp for the 7130 with an additional 34hp boost available for unloading. The Series 230 succeeds the 20 Series and is topped by a new flagship, the Axial-Flow 9230, which has up to 571hp on tap to ensure that maximum performance is always available.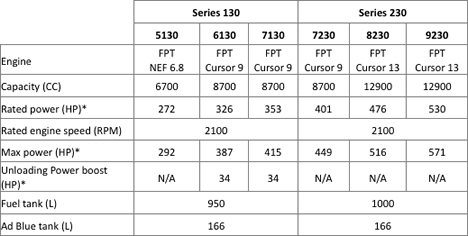 New engine for Series 130
All six models feature increased power but the Series 130 also benefits from a new Fiat Powertrain Technology (FPT) engine that offers better performance and lower emissions, and has seen proven service in the latest Puma, Magnum and Steiger/Quadtrac tractors.
Axial-Flow 8230 with tracks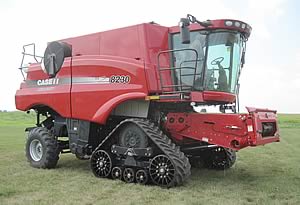 New tracks and tyres keep the pressure off
The Series 230 is now available with a choice of specially developed tracks or tyres. The new rubber tracks are available in 61cm (24") or 76cm (30") widths and give an overall machine width of 3.48m and 3.8m respectively.
"Case IH has more than 10 years experience of developing track technology with the renowned Quadtrac tractor. The new Axial-Flows build directly on that experience and offer minimum compaction and maximum traction, allowing the new Axial-Flow Series 230 to increase productivity in a wide range of conditions," said Paul Freeman, Case IH Product Marketing Manager.
For those with restrictions on machine width, Series 230 can be specified with 710/70R42 front tyres to give an overall machine width of 3.5m. The increased diameter results in a footprint the same as the wider 800/70R38 tyre.
Independent grain tank cross auger control
The flagship Axial-Flow 9230 has a new grain tank with an unloading rate of 157 litres per second. The high capacity tank features two cross tank augers that can now be controlled independently of the vertical and unloading augers. The separate mechanical drives enable the cross tank augers to be disengaged and the unloading auger emptied to reduce its weight and the transmission loading at start-up.

Horsch Launches New Machines at Agritechnica


Claas Xerion Sets New High Horsepower Standard


John Deere Advent Calendar and Other Christmas Treats for 2011