Bauls on the Ball at Year's Final Craven Dairy Auction
2010-12-14
The Ravensgate dairy herd of M Baul & Partners, based at Watergate Farm, Bishop Thornton, was responsible for the champion at the December show, as the curtain came down on a highly successful year of Craven Dairy Auctions at Skipton Auction Mart on Monday 13th December.
Peter Baul, left, with his December Craven Dairy Auction champion,
joined by judge Colin Whitelock.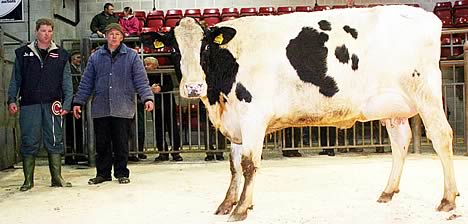 Shown by Peter Baul, the victor was the first prize newly calven heifer, which calved 18 days before the show to the Cogent sire Crichel Principal, already used to good effect by the Bauls. Giving 33kg, the title winner caught the eye of Alf Townsend, of Southfield, Burnley, at £1,820.

Top price in show at £1,840 fell to the second prize newly calven heifer from Robert Crisp, of Nelson Farm, Calton, who has himself bagged a brace of Craven Dairy Auction championships in 2010.

The latest buyer was ringside regular John Howard, Carleton, who also paid top call of £1,370 in the in-calf heifers class for an entry from Alan Simpson, Oulston, York.

The reserve championship fell to another two-times title winner this year, Brian Moorhouse of Hesper Farm, Bell Busk. His home-bred 30-litre second calver, who is by Aireburn Dettori, joined Ian Dodson, Sowerby Bridge, for £1,600.

The same price was paid for the third prize newly calven heifer from Jeremy Taylor, Broughton, by another familiar face at the fixture, Cheshire buyer Wick Williams, Nantwich, who also went to £1,720 to secure another newly calven heifer from Bargh Bros, of Bracewell. The same vendors also sold a further newly calven heifer to Ian Dodson for £1,700.

Dewsbury-based John Broadfield's first prize in-calf heifer joined John Nutter at Hurst Green, Clitheroe, for £1,300.

With 44 dairy cattle forward, 22 milkers and 19 in-calf heifers among them, newly calven heifers averaged £1,482 and newly calven cows £1,353.

Show judge was Colin Whitelock, Gargrave. Milkers return to the mart on Monday, January 3, for the opening Craven Dairy Auction New Year fixture.

White Wyandottes Head Pecking Order at Christmas Craven Feather Auctions


Leathley Keighleys make History at Skipton Winter Texel Highlight


Skipton Christmas Prime Shows Bring Festive Cheer