Leathley Keighleys Make History at Skipton Winter Texel Highlight
2010-12-06
Wharfedale-based Mark and Helen Keighley created history at the 18th annual Northern Area Texel Sheep Breeders' winter show and sale of females at Skipton Auction Mart. (Sat, Dec 4)
Mark Keighley with his 2010 Skipton Winter Texel supreme champion, joined by his wife Helen and the couple's 14-month-old son Jack. Judge and buyer Edward Fawcett is pictured left with sponsor Richard Harrison.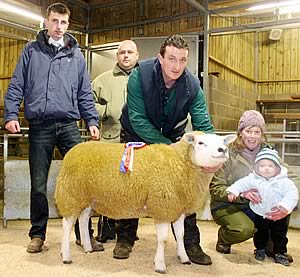 The Keighleys, of Manderlea Farm, Leathley, Otley, clinched the supreme championship for the fifth time in six years and became the first exhibitors to land a hat-trick of consecutive title wins at the society's seasonal pedigree event, where all shearlings and ewes were in-lamb.

The only year in recent times the Keighleys missed out was in 2007, though only narrowly, as they exhibited the reserve champion. Mark is immediate past chairman of Northern Area Texel Sheep Breeders.

The 2010 title fell to the Keighleys' first prize shearling ewe, one of the first home-bred daughters to be offered for sale by their ram Claybury Osprey, himself a product of the influential sire Castlecairn Keltic Star.

The grand dam is by Hull House Freshman, bred in Hellifield by John Mellin. Freshman has proved one of the best rams ever used by the Keighleys and also sired the dam of their 2009 Skipton shearling ewe champion.

The title winner is in lamb to Moor Top Pharoah, acquired for 2,300gns (£2,415) at the annual Northern Area Texel Association show and sale at Skipton this September from David Towell's Moor Top flock at Upper Leys Farm, Glusburn Moor, Keighley.

The victor sold for 900gns (£945), joint top price in show, to judge Edward Fawcett, whose Kissthorn Texel flock is based at Sand Hutton, York.
Stuart Currie, centre with his 2010 Skipton Winter Texel reserve champion, joined by judge Edward Fawcett, left, and sponsor Richard Harrison.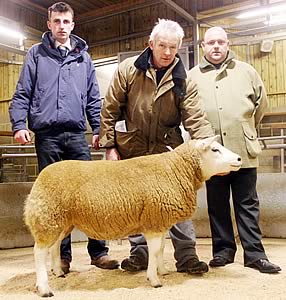 Reserve champion was the second prize shearling ewe from the Beautry House flock of North Craven Texel breeder Stuart Currie, of Rathmell, Settle. The February, 2009-born ewe is a daughter of Millar's Omen, bought at Lanark two years ago by Mr Currie.
In lamb to his own Beautry Panana, the first prize shearling ram at this year's Great Yorkshire Show, the reserve champion also made joint to price at 900gns (£945) when acquired by West Yorkshire's Andrew and William Warren, of Cleckheaton.

Best of the ewes came from South Yorkshire breeder Jennifer Lodge, of Moseley Grange, Moss, Doncaster. The February, 2007-born daughter of Mrs Lodge's Castlecairn Kennedy is in lamb to Kelso Pure Perfection, by whom the Lodges had already sold sons to 900gns.

The Skipton class winner made 250gns (£262.50) when selling to C Harrison, Blubberhouses, who also paid the same price for the third prize ewe - by Clougher Krispie and scanned in lamb to Ballynahone Nutcracker - from the Pergill flock of Jill Perrings at Rathmell, Settle.

The Loxley flock of John and Alison North, based at Syke House, Goole, was responsible for the first, second and third prize ewe lambs. The victor was a January-born daughter of Ballynahone Nutcracker, who was also responsible for the Norths' shearling gimmer interbreed champion at last year's Kilnsey Show. The prize winners sold to a top of 160gns (£168) to G Smith, of Marske By The Sea in Cleveland.

Back in the shearling ewe class, the third prize winner came from the Meinspride flock of Angela Nairey, of Bank Hey Farm, Liusey, Blackburn. The daughter of Meinspride Noble is in lamb to Meinspride Oasis, fourth prize shearling ram at this year's Great Yorkshire. She sold for 800gns (£840) to David Towell,

In addition, Mrs Nairey was responsible for the second prize ewe, by Douganhill Ferrari, who is also expecting by Meinspride Oasis.

Shearling ewes averaged £284 and ewes £228. Main show sponsor was Richard Harrison, of Harrison's Agricultural Supplies, Skipton.

Skipton Christmas Prime Shows Bring Festive Cheer


Champion Calf Makes it a 'Happy Christmas'


Skipton Beef Shorthorns Peak at 2,900gns Twice