White Wyandottes Head Pecking Order at Christmas Craven Feather Auctions 2010-12-07
White Wyandottes ruled the roost when taklng both championship and reserve championship honours at the annual Craven Feather Auctions Christmas show and sale of poultry and waterfowl at Skipton Auction Mart. (Sat, Dec 4)
Alan Barnes is pictured right with one of his Craven Feather Auctions Christmas show champion pen, assisted by Skipton Auction Mart's Ted Ogden and Andrew Fisher.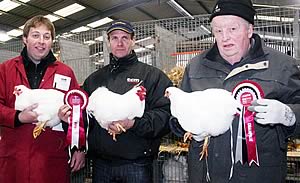 The victorious trio of bantams - two pullets and a cockerel - were exhibited by renowned Red Rose 'birdman' Alan Barnes, of Cowden, Great Harwood, who has been breeding poultry for well over 60 years – he first started as an eight-year-old.

Mr Barnes has achieved countless successes on the national show circuit over many years and was in demand to judge poultry shows nationwide. He is also well known as a breeder of Blue Faced Leicester and Mule sheep and has interests in the greengrocery trade, with the family business A & KM Barnes in Clayton-le-Moors, run by his wife Katherine, this year celebrating its landmark 50th anniversary.

Exactly 12 months ago at the Skipton Christmas poultry fixture, Mr Barnes set an all-time mart record price of £300 for a pen of hens, also a trio of White Wyandottes.

His 2010 title winners, bred from show stock – the cock was champion at last year's National Poultry Show at Stoneleigh - sold for £200.

The reserve champion pair of Large White Wyandottes was exhibited by a former Skipton champion and multiple prize winner, Richard Pickles, of Lothersdale, who bought the parents from one of the country's top breeders and showmen at the beginning of this year. The runners-up sold for £120.

At the 2010 National Poultry Show at Stoneleigh, Mr Pickles picked up two fourth prizes for his Large White Wyandotte bantams and Sussex bantams. His two daughters, who are obviously following in their father's footsteps, were also among the national prizes, as they have been in past years.

Rebecca, nine, a pupil at Lothersdale Primary School, clinched first prize honours in the Light Sussex Club juvenile class, while 11-year-old Selina, who attends South Craven School, was runner-up in the same class.

Richard commented: "I am a great believer in buying quality breeding stock to produce top quality birds." Show judge was Edward Boothman, of Silsden.

There was also a festive show and sale of Border Fine Art, Beswick, ornaments and gifts.

Leathley Keighleys make History at Skipton Winter Texel Highlight


Skipton Christmas Prime Shows Bring Festive Cheer


Champion Calf Makes it a 'Happy Christmas'