Princes of the Plough Sell Traditional Farming Methods
2010-12-07
The benefits of traditional, sustainable, carbon neutral farming methods have been showcased at a special event held by the Cornish Heritage Farming Company at Treloan Coastal Heritage Farm, near Truro.
Demonstrating traditional farming techniques at Treloan Coastal Heritage Farm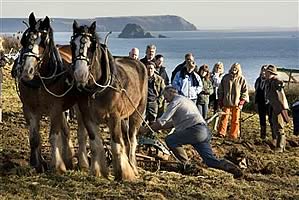 Over 60 people attended the training event. During a day-long programme attendees gained an insight into working with horses and ponies during the farming calendar and were treated to a series of demonstrations and lectures by David Jones and Robert Eddy of Cornish Horse Power.

Robert Eddy's Trenuggo Shires ploughed the farmland and Mike Halford brought his Shires' team with plough, cultivator and hitch cart. David Jones of Cornwall Country Carriages showed the opportunities for smaller equines in agriculture with the help of his Dartmoor pony and donkey team undertaking cultivations. Attendees learned of the merits of low impact, low carbon methods and the importance of keeping traditional practices alive.

The event was originally intended for Cornish farmers and enthusiasts but interest was so great the invitation was extended across the Tamar into Devon. The emphasis of the day was to raise interest, inspire people to adopt traditional techniques that work alongside modern methods and make people aware of the relevant training opportunities available.

Treloan owner Victor Barry said: "I wanted to show a small scale farm being cultivated for food production and to help keep traditional methods alive."
The event costs were funded by the Skills Funding Agency through Business Forward, an ESF (European Social Fund) Convergence project, so all learners could attend for free.

Verity Biddick, Business Forward Broker, said: "We are delighted this event has attracted so much interest. Many of the people here today want to learn how to use their own horses and ponies for farm work. The funding has enabled us to offer free places to all attendees so everyone here can benefit from some funded training support to learn these valuable traditional skills."

Lee Stone and her daughter Hayley attended the training day. The Stone family are beef and sheep farmers at Chynoweth Farm, Breage, near Helston and also run G. T. Stone & Son haulage services. Lee said: "today has been fascinating; there is something very peaceful and tranquil about the traditional farming methods. The demonstrations and group discussions led by David and Robert were very informative."

Duchy College is a strong supporter of traditional farming methods and took a group of 4th year Animal Care students to the event. Two of those students were Sarah Barber of Truro and Verity Reed of Penzance, both 19, who are planning to run a small-holding together when they leave college. Sarah Barber said: "You lose so much using modern methods, including the art of farming in partnership with your horses. Traditional ways also cost much less and it's sustainable."
Lindsay Southcombe attended the event on behalf of Transition Truro, a support network to help the local community adapt to the challenges of climate change and engage in sustainable solutions.

"I feel I learned a lot from today," she said. "I was so impressed by the horses, pony and especially by the donkey as well as their owners. I think it is great that there is such a strong movement in Cornwall towards sustainable farming methods."

Head of Provider Accounts for the Skills Funding Agency, Mark Williams said: "Farming plays a fundamental part in Cornwall's past, present and future and Business Forward gets help directly to the heart of the industry. My family and I have always kept Shires on our farm and I am delighted that the benefits of these traditional and sustainable future skills are being reignited in Cornwall."

Business Forward offers up to 100% funding and is exclusively available to rural businesses based in Cornwall and the Isles of Scilly working in agriculture, animal care or technology, aquaculture, environmental conservation, equine, farriery, fencing, fisheries management, floristry, game conservation, land-based engineering, horticulture, landscaping, sports turf, forestry and veterinary nursing. Both employers and employees can benefit from the programme.



Professional Tractor Driving Courses for Youngsters


Utility Companies and Compensation – What to look out for


IT Project Helps Farmers Go Digital