Utility Companies and Compensation – What to look out for
2010-11-12
"Driving around the countryside, its amazing to see how many utility companies' apparatus (gas mains, electric poles, pylons and water mains) criss-cross the farming landscape and for those that have apparatus above ground, there is the constant reminder (normally at spraying time) of the hassle they cause," says Louis Fell, Partner at rural specialist George. F. White.
Louis Fell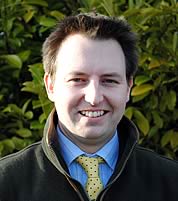 George F. White have extensive experience across the North in helping to make sure farmers are fully compensated for all losses relating to the installation and maintenance of these apparatus. Here, Louis shares some advice on the factors that farmers need to take into account when dealing with utility companies on compensation issues.
"Most of the utility companies operate under various Acts of Parliament, the majority of which were granted many years ago when these operations were carried out by nationalised companies. This annoys me, as they are now privatised companies that report to shareholders and are charged with creating profit, yet they hide behind these Acts in order to benefit their shareholders and in most cases, it is the land occupier that is not always treated fairly.
Therefore, understanding the underlying legislation and what the utility companies can and can't do under their statutory powers is vital when they wish to have access to install new apparatus or repair, maintain and replace existing equipment. Don't get bowled over that what they say is true; as I mentioned above, most Acts are 'out of date' and there is much ambiguity over their powers.
Under a normal compensation claim there are various items to cover off. Firstly the compensation for loss of income; the question this year has been what price to put on the commodities? We have just been agreeing claims with prices that 3 months ago would have been out of the question, therefore getting the timing of the claim right is important.
Secondly the reinstatement, i.e. what works needs to be done after they have been on your land. The amount of times that utility companies do work over winter is incredible. They have no respect for the land or the farmer's property; they are just out to get the work done on time and on schedule. You need to agree the rates of the reinstatement before you allow them entry, so agree an hourly rate for things such as tractor plus subsoiler and man for rutting etc. This makes the claim at the end easier to formulate with less need for speculation. Many underestimate the time and cost of such works and we have a constant battle with utility companies over this. If you do have field drainage and they are repairing a water pipe, make sure you are present when they dig the trench and back fill so that the drains are repaired correctly.
Thirdly, inconvenience and disturbance payments; it is vital that from the first time they make contact, you keep a record of all contact, time and disturbance that any work causes you, including speaking to your agent! This may cover various factors for example including extra time completing subsidy forms if you have to exclude an area or going a longer route to check stock. A large scheme which takes a couple of years to complete could mean considerable extra time to a farmer which could have been spent elsewhere.
Fourthly, under an easement if there are new apparatus or even equipment that is bigger than already in existence, there will be a payment for the diminution in value to the property as a result of the apparatus. This is often a major area of friction and it is very important to look at the comparables and to fully understand the value of the underlying asset. I'm aware of many deals done, which don't truly reflect the underlying asset base. If held under a wayleave, make sure the agreement is correct and the additional annual payment is made to you.
Lastly, don't forget that they will cover all your expenses incurred including agents and other professionals, so it won't cost you anything! Getting professional advice can ensure that you are fully compensated for all these factors.
George F. White offers advice and assistance in all rural issues. They have offices Bedale in North Yorkshire, Shiptonthorpe near York, Alnwick in Northumberland, Wolsingham and Barnard Castle in County Durham and Park Lane in London www.georgefwhite.co.uk.

IT Project Helps Farmers Go Digital


Search Begins For Borders Arable Monitor Farm


Farmers Advised to Use Winter for Knowledge Transfer