IT Project Helps Farmers Go Digital
2010-11-11
"Rural living needn't mean isolated living," says Upper Teesdale Agricultural Support Services (UTASS). In a campaign to improve the ICT Skills of those working in agriculture in the Durham Dales, it has announced details of a new IT training programme.
Barry Dobson showing Gordon Jones of UTASS
some new Windows skills.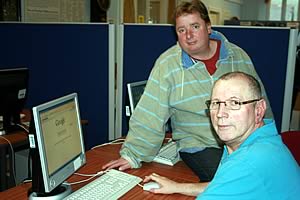 The training project, which is available now until March 2011 with funding from LandSkills North East and The Prince's Countryside Fund, aims to ensure that those involved in upland livestock farming are able to develop their businesses with the necessary skills to compete effectively in the twenty first century.
With the imminent approach of the Digital Dales Broadband Project this training will help UTASS members get online as many of their legal obligations such as cattle passport applications are easier and more reliable when completed this way. It will also ensure more effective communications with organisations such as Natural England and give businesses a chance to learn how to promote themselves through on-line marketing. This is particularly important where farms have other income streams such as accommodation, or are selling farm produce direct.
UTASS, originally set up to advise and support the Teesdale farming community during periods of hardship, still maintains an active role in supporting rural life. And today, something now considered a basic human right by many governments, is one major obstacle left to overcome - giving people the confidence and skills to use the internet.
Diana Spark UTASS Project Manager says "This project comes in response to what our members are telling us they need: easily available, user friendly IT assistance. The aim is to improve their communications with suppliers, customers and the outside world in general."
One to one tuition sessions take place with Specialist IT Advisor and Trainer Barry Dobson. Barry has been working in IT for 20 years and is able to explain computer issues in a jargon free easily understandable manner. The tuition can take place at home or at work and tailored to your personal needs whether it is a case of helping choose and set up a computer to more advanced questions. A series of Computer Basics Courses will also take place later in the year at the UTASS office at Middleton-in-Teesdale.
IT Support and training is available to UTASS members at a cost of £10 for three half hour sessions. For further information on membership and IT training call UTASS on 01833 641010.

Search Begins For Borders Arable Monitor Farm


Farmers Advised to Use Winter for Knowledge Transfer


Agricultural Property Auction Report