H&H Bowe Seminar Spotlights Renewable Energy
2010-12-06
Green technology has been pushed into the spotlight - but what are the opportunities for farmers and landowners in the north of England and Scotland and what are the considered obstacles?
Left to right, Alistair Fell, Doug Claxton and Neil Henderson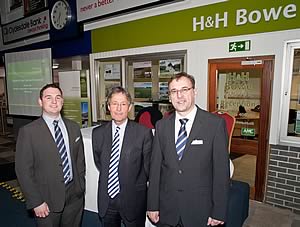 Renewable energy and related planning matters were among the topics addressed in a seminar run by H&H Bowe, Chartered Surveyors, at Borderway, Carlisle, on Wednesday (1 December) for local farmers and rural businessmen.
The seminar was addressed by Alistair Fell, the company's renewable energy advisor, and chartered town planner Neil Henderson. Doug Claxton, a partner with Burnetts Solicitors, Carlisle, specialises in legal planning issues, also spoke about his work on behalf of local authorities and objector groups at wind farm inquiries, which was insightful.
Alistair Fell gave an overview of the technologies that were available for farmers to harness green energy and heat, focusing on the financial and practical implications of each.
Although wind energy is the technology most farmers are interested in, Mr Fell also outlined the pros and cons of hydroelectric schemes, anaerobic digestion, solar power, biomass and ground and air source heat pumps.
He commented on the government's plans to review the Feed-in-Tariff (FIT) in 2012 and stressed the need for a clear strategy for implementing renewable energy plans prior to this date, as the payments are likely to be reduced.
He explained that the Renewable Heat Incentive (RHI) is due to come into effect next year, which will make it more financially rewarding to install a "green" heating systems in a home or farm, with the government looking to invest £860m.
Mr Fell added: "This really is a time of opportunity in terms of both FITs and the RHI. There are lots of alternatives out there and it is well worth speaking to us about how best to venture into the world of renewable energy."
H&H Bowe developed a Renewable Energy service to offer impartial, independent advice to farmers and homeowners. Electricity price rises announced earlier in the month highlight the relevance of this service.
Chartered Town Planner Neil Henderson explained that "Successive governments have identified the planning system as a major obstacle to increasing the amount of renewable energy production." He continued, "the UK was committed to producing 15% of its energy through renewable means by 2020 - an ambitious target which started from a base of only 1.5% in 2005."
National planning policy is very supportive of renewable energy proposals of all sizes, but at the local level refusals were all too common, which pointed to the need to put forward well designed schemes and professional applications.
The success rate of wind turbine applications, by far the biggest contributor to renewable energy in the last few years, was highlighted by the Renewables UK State of the Industry Annual Report, which showed that in the year leading up to October 2010 only 41% of applications had been approved in England. This equated to a fall of 29% compared to the previous 12 months. The proportion of Scottish local authority approvals has also fallen significantly.
Mr Henderson speculated that the reasons for the decline could be that many of the best sites had already been developed, the figures did not show how many refused applications were subsequently approved at appeal, and that opponents to wind power were becoming more organized in their approach.
He reminded the audience that while approval rates had declined, an increasing number of applications were taking place, so overall capacity has increased. In addition, the advent of smaller turbines meant they were less likely to be controversial.
Finally he looked at what might happen in the future, including the extension of Permitted Development Rights to install small scale renewable energy schemes without the need to apply for planning permission.
Doug Claxton gave the audience the benefit of his experience in representing local planning authorities and objector groups at wind farm inquiries. He informed the audience of the significant timescales involved and warned that opposition groups were becoming better funded, and would try to identify a 'killer point' to undermine proposals. The main issues raised were usually in respect to landscape impact, visual effects, residential amenity, noise and health.

Which Renewable Technology is the Right FIT?


Utility Companies and Compensation – What to look out for


IT Project Helps Farmers Go Digital