New McCormick Tractor Outlet in Ayrshire
2010-10-06
An agricultural engineering firm based at Dundonald near Kilmarnock in Ayrshire has been appointed to represent AgriArgo UK's McCormick tractor range in the area after a two-year break from supplying new tractors.
Tom Murray (left) hands the key for a CX110 to his first McCormick customer, Hugh Young of Rottenyard Farm, New Cumnock.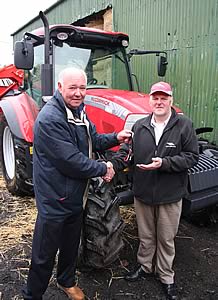 Tom Murray and his son John launched the franchise with a working demonstration of tractors and equipment to more than a hundred local farmers.
"It was a good way to reintroduce the McCormick range to the area and highlight our return to new tractor sales," says John Murray. "The initial response has been good – we've already taken a number of orders."
Tom Murray started the business – Thomas Murray Agricultural Engineers – 35 years ago and built a reputation for reliable servicing and repairs of farm machinery on local farms. Agreeing to represent the McCormick tractor range should bring a significant boost to the business.
"The range certainly suits our dairying, beef and sheep farming customers in this area very well, providing all the features they'd expect but none of the complicated stuff that a lot of farmers really don't want," he says.
The dealership's first McCormick customer, New Cumnock beef and sheep farmer Hugh Young, has taken delivery of a new 100hp CX110.
"It's a nice tractor with enough features like power shuttle and a three-speed powershift to make it a pleasure to drive but without being too complicated," he declares. "The cab suits me very well too; there's good visibility with no side pillars to get the way."
The tractor's typical workload will include silage mowing and carting in summer and feeding stock through the winter months.
"I'd heard that Tom Murray was thinking of taking on the McCormick range and said I'd have one as long as he went ahead," says Mr Young. "We've always had good service back-up so I didn't want to go anywhere else."
Having successfully built up business with two tractor makes in the past only to lose out in dealership restructuring decisions, Tom and John Murray were cautious when asked to consider handling McCormick in northern Ayrshire.
"But the feedback we got from other dealers was very positive and users liked the tractors and found them reliable," says John Murray. "Also, we were impressed by the people at the McCormick distributor, AgriArgo UK, so decided we should give it a go."
He expects the mid-range 80-100hp CX, available with deluxe and low profile cabs, and the 100-130hp four-cylinder MC to be most in demand, along with the new six-cylinder MTX.
They will feature in an exhibition of McCormick tractors at the Royal Highland Centre, Ingliston near Edinburgh on November 17 when Tom and John Murray team up with fellow McCormick dealers in Scotland Hamilton Tractors, Carnwath; John Drysdale & Sons, Kinneswood, Perth; and Fraser C Robb, Drymen for the Agriscot winter farming show.

Bauer's New ProRain Reel Irrigator Meets Market Demands


Tru-Test Group Establishes UK Base


Farm Works Information Management Expands Product Range