Tru-Test Group Establishes UK Base
2010-09-24
Ritchey and Fearing have been acquired by Tru-Test Group, the New Zealand-based world leader in electric fencing, animal weighing and milk metering equipment.
Tru-Test Group managing director,
Greg Muir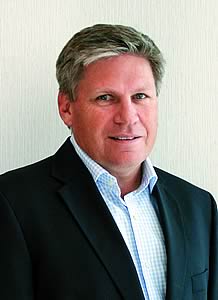 The company has purchased the business and assets of Masham, North Yorkshire based Ritchey, together with the shares of direct sales business Fearing International (Stock Aids) Limited, from AIM listed Animalcare Group plc.
The acquisition will give Tru-Test Group a base in Europe, to better serve its UK and continental Europe customers, consistent with its existing New Zealand, Australian, Mexican and North American divisions. It will also increase Tru-Test Group's annual turnover to more than NZD$100 million.
Ritchey and Fearing have had a 15 year relationship with Tru-Test and both companies have long track records as distributors of Tru-Test Group products, such as electric fencing and electronic weighing equipment. This relationship was an important aspect in the purchase decision, said Tru-Test Group managing director, Greg Muir.
"The Tru-Test business is closely aligned to the Ritchey and Fearing businesses. By combining the experience and expertise of all three businesses, we believe we will see significant growth both in the UK and Europe, as well as internationally. The purchase of Ritchey will also enhance Tru-Test's stock management portfolio, by adding a tag proposition to the range."
Tru-Test Group manufactures and sells livestock management and electric fence equipment in approximately 70 countries world wide. Brands within the Tru-Test Group family include; Pel, Stafix, Speedrite, Patriot, Hayes and Tru-Test.
About Ritchey and Fearing
Ritchey, originally known as Ritchey Tagg Ltd, was formed in 1972, specialising in the manufacture and supply of ear tags and animal identification products. The business is now a leading independent British manufacturer, distributor and supplier of a wide range of animal husbandry products in the UK, Republic of Ireland and key export markets worldwide.
Fearing promotes and supplies agricultural products direct to farmers across the UK and Ireland, via a successful online and catalogue sales programme.

Farm Works Information Management Expands Product Range


British National Ploughing Championships 2010


County Durham Farm Dispersal Sale - Gatehouse Cottage Farm