Bauer's New ProRain Reel Irrigator Meets Market Demands
2010-09-30
Growers wanting an efficient and durable reel irrigator now have a new option in the shape of the ProRain irrigator.
The Bauer ProRain reel irrigator comes in two models with a choice of six hose diameter/hose length configurations to suit different applications.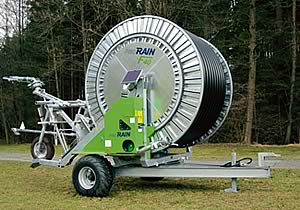 "The high-end Bauer Rainstar is highly sophisticated and specially designed with a very strong steel structure to take heavy loads and booms for highest retraction forces," explains Bauer UK sales manager Adrian Tindall. "But not all growers need this level of performance so Bauer developed the ProRain to meet their needs."
The ProRain comes in two sizes covering many of the popular hose configurations preferred by UK growers and can be quickly adapted to cover a wide range of water flow rates and rain gun sizes.
Key features include a self-loading rain gun trolley for rapid moves; hydraulic stabiliser leg operation; optional hydraulic turntable rotation; and a fully galvanized finish for components needing corrosion protection.
"The ProRain is built to the high quality standards of Bauer, with all major steel components galvanized to give the machine a long service life," notes Adrian Tindall. "Growers rightly regard purchasing a reel irrigator as a long-term investment and as with other Bauer equipment the ProRain will stay the course."
The design of the ProRain is based on retraction forces that are a little lower than those of the Rainstar but still higher than competitor machines. Also, the drive unit, which consists of a water turbine/gearbox combination, is an efficient unit providing enough power to cover the standard performance range for different application rates.
Field experience suggests the ProRain's turbine maintains efficiency over a wide range of flow rates. But Bauer has, nonetheless, made it as easy as possible to change injection cones to cater for a wide range of water flows.
"On some irrigators, this is a two-man job because it involves unbolting heavy hoses at the same time as supporting them," explains Adrian Tindall. "On the ProRain, two single-lever Bauer couplings release the water feed flexible hose and rigid pipe, and undoing four bolts to remove just a flange gives access to the cone inlet to the turbine. It can be done by one man in a matter of minutes."
The reel is constructed with a closed inner drum to ensure that the first layer of hose sits correctly without distortion or overlapping. That way, subsequent layers will build up evenly.
"The Bauer PE hose, which is known for highest quality and durability, is also used for the ProRain," says Adrian Tindall. "That's an important consideration when a replacement hose can cost half the original price of the machine."
In work, the ProRain is operated using Bauer's Ecostar 4000S controller powered by a 12v battery with solar panel charging. In addition to irrigation stop/start, the Ecostar is used to set the hose retraction speed, which is displayed on a read-out.
The display also shows the time remaining until the end of the run and the length of pipe deployed – a measurement calculated using sensors on the drive gearbox rather than the pipe to avoid errors caused by soil and other debris.
Individual water-testing of every ProRain irrigator that leaves the Bauer factory is another measure of the Austrian manufacturer's attention to detail and something that Norfolk dealer Tony Freezer of AJ Freezer Water Services, Swaffham, really appreciates.
"Bauer's irrigators come to us pretty much complete and individually tested so we know that once we've assembled the gun trolley and put the wheels on it's ready to go," he says. "We've no fears of customers being held up while we spend time tackling leaks because we know it will be right first time in the field."
At around £18,300 for a base-spec F40 110mm/500m, he also reckons the ProRain represents good value for money.
"It's competitively priced but not built down to a price," he maintains.
Bauer ProRain specifications


Tru-Test Group Establishes UK Base


Farm Works Information Management Expands Product Range


British National Ploughing Championships 2010