Stonebridge Tops Skipton Texel Show & Sale
2010-09-21
A robust commercial trade and an over 90% clearance of the 445-strong entry, were high spots of the 29th Northern Area Texel Sheep Breeders Association two-day show and sale of pedigree rams and females at Skipton Auction Mart. (Thus & Fri, Sept 16 & 17)
Potential Skipton Texel title winners line up for the judge,
with Chris Riby and the eventual supreme champion
on the right.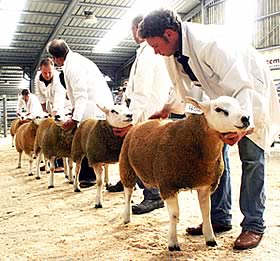 A total of 401 sheep were sold and while average prices were virtually unchanged on the year, a good number of quality breeding sheep commanded four-figure sums.

Notable among these was the third prize shearling ram from South Yorkshire breeders Stephen and Sherry Richardson, whose Stonebridge Texel flock is based at Mount Pleasant Farm, Great Houghton, Barnsley.

Fifth in class at this year's Great Yorkshire Show, the March, 2009-born ram is by Ffostyl Oscar, bred in Powys, Wales, by Philip Evans. He headed the show prices at 2,800gns (£2,940) when finding a new home in Wharfedale as stock ram with the 20-strong Texel flock of David Ryder at Lindley Hall Farm, Lindley, Otley.

The Richardsons themselves paid 1,600gns for a ram lamb exhibited by Stuart Currie, of Rathmell, Settle.

Next best in terms of selling prices at 2,300gns (£2,415) was another shearling ram from local breeder David Towell's Moor Top flock at Upper Leys Farm, Glusburn Moor, Keighley. The March-born son of Stainton O2, bred near Kendal by Peter Woof, joined the Manderlea flock of William and Mark Keighley at Leathley, Otley. Mark is a former Northern Area Texel chairman.

Skipton is a happy hunting ground for Mr Towell, who at last year's Texel fixture achieved the highest prices seen at the mart for some time when selling a shearling ram for 4,200gns (£4,410) and a shearling ewe for 2,400gns (£2,560).

At this year's renewal, Mr Towell sold a second shearling ram for 1,500gns to Angus Dean, Threshfield, who also paid 1,000gns for a further shearling ram from Peter Longdin, of Tickhill, Doncaster.


Chris Riby and his Skipton Texel ram lamb supreme champion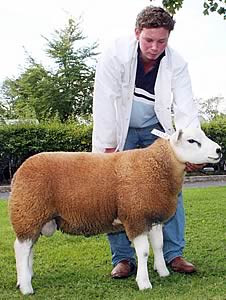 The supreme champion was the first prize ram lamb and male champion from East coast exhibitor Geoff Riby, of Low Stonehills Farm, Fraisthorpe, Bridlington. Exhibited by his son Chris, Stonehills Robber stole the show, courtesy of judge Alex Brown.

Scotsman Mr Brown, who is now based in Darwen, Blackburn, is an internationally renowned breed judge – and was the first-ever overseas adjudicator at Australia's premier annual Texel show and sale. He described the Skipton victor as "a very correct young ram with a good carcase, tremendous skin, lovely colour and showing fantastic character."

The April-born title winner, whose dam was the 2009 Driffield Show champion, is a son of Humeston Pride of Kings, acquired for 2,800gns by Mr Riby in partnership with fellow East coast breeder Sam Beachell, whose Samsar flock is at Beswick, Driffield. The title winner sold for 550gns to Howard Peel, of Embsay.


John Mellin and his Skipton Texel shearling ewe reserve supreme champion.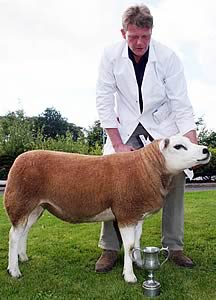 Mr Brown awarded the reserve supreme championship to the first prize shearling ewe and female champion from local breeder John Mellin, who runs the well-regarded Hull House Texel flock in Hellifield. She is a February, 2009-born daughter of Knock Orocco, acquired in 2008 for 8,000gns by Mr Mellin, out of a Castleknowe Matchmaker-sired dam.

Matchmaker was a 30,000gns joint acquisition from Ireland by Mr Mellin and Janet and Steven Symes, whose Anglezarke flock is based at Heath Charnock, Chorley, Preston.

The Skipton runner-up, described by the judge as "having great character, tremendous conformation and major potential for the future," was sold for the class-topping price of 1,600gns (£1,680) to William Warren, of Church Farm, Gomersal, Bradford.

Just five days earlier at Skipton, Mr Warren also paid top price 3,400gns (£3,570) for the supreme champion ewe lamb at the Beltex Sheep Society's 10th annual show and sale of pedigree rams and females. The buyer is accumulating quality in his quest to breed potential championship-winning commercial Texel-x-Beltex lambs for next year's shows. He also paid 850gns for a shearling ewe from David Towell.

John Mellin sold several shearling rams, which peaked at 1,300gns for another Castleknowe Matchmaker son, acquired by R&A Wallbank, Slaidburn. In addition, Mr Mellin headed the aged ram prices at 920gns, with the February, 2008-born entry falling to Thwaite Bros, Airton.

The reserve male champion was the second prize ram lamb from current Northern Area Texel Sheep Breeders chairman Spiros Spyrou, of Gib Farm, Hebden Bridge. The February-born son of Fachell On Approval, bred in Wales by Idris Morris, made 950gns when joining Carl Fawcett's Kissthorn flock at Sand Hutton, York.

The reserve female championship fell to the second prize shearling ewe from Red Rose showman David Houghton, whose Tophill flock is based at Isherwood Farm, Affetside, Bury.

The sire, Knock Orion, was bought jointly by Mr Houghton and Anglezarke Texels for 10,000gns from Aberdeenshire breeders George and Albert Howie. He was the 1st prize aged ram and reserve male champion at this year's Great Yorkshire Show.

The Skipton entry, out of a Haltcliffe Jaguar-sired dam, sold for 700gns to S Walmsley & Partners, Harrogate. Mr Houghton also sold the third prize ram lamb for 610gns to Carl Fawcett.
The 1st prize shearling ram was presented by first-time Skipton exhibitor Andrew Butcher, who runs the Stone Beck flock in Ulverston, Cumbria, established with his late father Geoff. By another Scottish-based Howie sire, Knock Impulse, the class victor, also the second prize ram at this year's Great Yorkshire show, sold for 1,050gns to RN Kirby & Son, Northallerton.

The winner's rosette in the ewe lamb class was awarded to an entry from Jeremy Taylor's Smallhouse flock at nearby Broughton. She is a daughter of the Castleknowe Matchmaker son Hull House Out N Out, acquired in 2008 from John Mellin. The buyer at 150gns was P Barlow, of Shelford, Cambridgeshire. Mr Taylor also sold a shearling ewe at 900gns to RS & J Bradley, Salterforth

Shearling rams averaged £562.84, ram lambs £339.89, shearling ewes £323.00 and ewe lambs £129.63. The show was sponsored by Farmway, Woodheads Seeds, I'Anson Bros and BOCM Pauls.

Results: Shearling ewe – 1 and female champion and reserve supreme champion John Mellin, Hellifield, 2 and reserve female champion David Houghton, Affetside, 3 Mrs & Miss F & HJ Booth, Wigglesworth. Ewe lamb – 1 Jeremy Taylor, Broughton, 2 Mrs C Woodward, Goole, 3 JM & M Perrings, Rathmell.

Shearling ram – 1 Andrew Butcher, Ulverston, 2 John Howard, Northallerton, 3 S & S Richardson, Barnsley. Ram lamb – 1 and male champion and supreme champion Geoff Riby, Bridlington, 2 and reserve male and reserve supreme champion Spiros Spyrou, Hebden Bridge.

Geldards Regain Championship at Skipton Charollais Rams Show


Repeat Coup at Skipton Shearling Gimmers Show


Gloucester Bishops' Pilgrimage to Beltex Success at Skipton