Gloucester Bishops' Pilgrimage to Beltex Success at Skipton
2010-09-14
Gloucestershire-based husband and wife breeders Andrew and Rebeccca Bishop, of Pitfield Farm, Eldersfield, made the 360 miles-plus round trip to North Yorkshire worthwhile when landing both supreme championship and top price honours at the Beltex Sheep Society's 10th annual show and sale of pedigree rams and females at Skipton Auction Mart. (Sat, Sept 11)
Andrew Bishop with his Beltex Sheep Society
2010 Skipton supreme champion.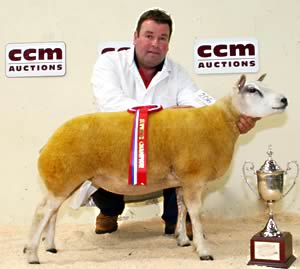 Making their debut in the annual fixture, the couple, who trade as A & R Livestock, secured the title with a ewe lamb daughter of their own Fort View Knight, acquired two years earlier from Northern Ireland breeder Brendan McQuaid, of Banbridge.

A son of Gritter, Fort View Knight has proved both a prolific and profitable commercial sire for the Bishops, being responsible for butchers' lambs champion at shows and winter fatstock fixtures across the country, including the top price 1,500 guineas (£1,575) ram lamb at Chelford this year.

The Skipton victor, out of the home-bred Bishops Maple, had earlier been chosen as the first prize ewe lamb and female champion. She sold for 3,400gns (£3,570) to William Warren, of Church Farm, Gomersal, Bradford.

Mr Warren, his brother James and father Andrew, have for many years run their own haulage and agricultural contracting business in West Yorkshire. They initially started breeding sheep as a hobby, firstly with commercial Mules, followed by commercial Texels, pedigree Texels and Beltex.

They acquired their first Beltex sheep – quite literally by chance – 12 months earlier at the 2009 Skipton show, including the top-priced ram lamb, the champion female and reserve supreme champion, and the first prize ewe lamb and reserve champion female.

Mr Warren explained: "We were just passing by last year and decided to call in at Skipton. We ended up buying a number of sheep, including the ram lamb for breeding purposes on our Texel ewes. We now have over 200 commercial Texel-x-Beltex sheep.

"We returned to Skipton this year to boost our Beltex numbers. We were looking for top quality and we got it. Our aim is to breed potential championship-winning commercial lambs for next year's shows, with the carcase class at the 2011 Great Yorkshire Show top of our hit list!"

At this year's renewal, Andrew and Rebeccca Bishop also sold two further prize-winning home-breds by Fort View Knight, the second prize ram lamb for 1,000gns to S Walmsley & Partners, of Haverah Park, Harrogate, and the second prize ewe lamb at 600gns to another North Yorkshire breeder, Tommy Kitching, of Leyburn. Three other Bishop ram lambs sold successfully at 600gns, 580gns and 550gns.

Leading breeder and Northern Beltex Club founder member David Findlay, who trades with his wife Diane at Birdridding Farm, Coverham, Leyburn, was again among the top honours at Skipton when taking the reserve supreme championship with his first prize ram lamb and male champion, Northern Beltex Paul.

By the Mustang son Shelton Whin Lucky Dip, bred by Thomas and Judith Hunter, of Hunmanby, Filey, out of Northern Beltex Lady Diane, the runner-up sold jointly for 2,000gns (£2,100) to Mrs K Marshall, ofLangham Farm, Luxborough, Watchet, Somerset, and Bob Kirby, of Cullompton, Devon.

However, David and Diane Findlay retained a quarter share for the Pioneer flock of their two children Charlotte Findlay, 14, and 13-year-old William Ashton. Charlotte attends Wensleydale School, Leyburn, and William is a pupil at Ripon Grammar School. Between them, the family has a 200-strong flock of Beltex.

David Findlay also bred the first prize aged ram, Northern Beltex Mistral, bought as a lamb by north-east breeder David Bridge, of Guisborough. The February, 2008-born Burnside Jethro son was first of the 200-plus Beltex to enter the sales ring and set the tone for a successful afternoon when knocked down for 1,300gns (£1,365) to Joanne Hall, of R Hall & Sons, Inglewood Edge, Penrith.

The first prize shearling ram and reserve male champion from Red Rose breeder George Cropper, of Baxenden, Accrington, made 800gns when acquired for the Staindrop flock of Michael Robinson in Teesdale. Mr Cropper also presented the first prize aged ewe.

The third prize shearling ram from the Rathbone flock well-known North Craven breeder Michael Davis, of Ravenshaw Farm, Eldroth, Austwick, achieved top price in class at 1,250gns when Andrew Rigby, of Slaidburn, Clitheroe, acquired the Westerdale Leonardo son.

Mr Davis was also responsible for the first prize shearling ewe and reserve female champion, Rathbone Nairne, another product of Westerdale Leonardo, which sold locally for 480gns to Andrew Haggas, Otterburn.

In a strong shearling ram class, two further North Craven exhibitors performed well. Bernard Staveley, of Newby Moor, Clapham, sold three entries at 980gns, 950gns and 900gns, while Kit Dean, of Rathmell, Settle, sold one of his two entries for 980gns.

Heading the shearling gimmer prices at 520gns was John Wood's North Valley flock at Trawden, Colne. The buyer was Ian Hammond, of Glasshouses, Harrogate.

A dispersal sale of Beltex sheep on behalf of Robert Towers, JD & V Towers, Farleton, Lancaster, topped out at 480gns twice.

Show judge was Neale McQuistin, whose 150-strong Scottish Airyolland Beltex flock is based near Stranraer. Windle Beech Winthrop Surveyors, of Skipton, represented by Chris Windle, presented a £100 cash prize to the supreme champion, while the reserve champion received £50 from Novartis Animal Health.

Price averages, with 2009 comparisons in brackets, were: Aged rams £866.25 (£756) shearling rams £517.36 (£425.98), ram lambs £465.34 (£365.88), ewe lambs £662.67 (£339.50), shearling ewes £335.76 (£404.09), ewes £372.52.

Results: Aged ram – 1 D Bridge, Guisborough, 2 J & E Hedley, Hatfield. Shearling ram – 1 and reserve male champion – GJ Cropper, Baxenden, 2 AD Bishop, Eldersfield, 3 MR&JE Davis, Eldroth. Ram lamb – 1 and male and reserve supreme champion – D Findlay, Coverham, 2&3 A Bishop. Aged ewe – 1&2 GJ Cropper. Shearling ewe – 1 and reserve female champion MR&JE Davis, 2 B&F Staveley, Newby Moor, 3 BT Breaks, Newton-in-Bowland. Ewe lamb – 1 and female and supreme champion AD Bishop, 2 AD Bishop, 3 MR&JE Davis.

Lister Mashams Success at Skipton Store Sheep Fixture


Runaway Success for Skipton Native Breeds Highlight


Harrisons on a High at Skipton Store Lamb Highlight