Future Farmer Award Winner Celebrates at Kelso Sales
2010-09-15
Kelso's famous ram sales provided the ideal opportunity to present local farmer, Arnold Park with the 2010 Future Farmer Award, an initiative funded by the Elisabeth Murray Trust which celebrates the innovative practices of Scottish farmers and crofters who combine profitable farming with maintaining the natural capital of the land.
L-R Jimmy Sinclair NSA Chairman, Harvey MacMillan Elizabeth Murray Trust Chairman, Kay Clive Elizabeth Murray Trust Secretary, Arnold Park, Mrs Park, John Park. The boy at the front is Arran Park, Arnold's grandson and John's son.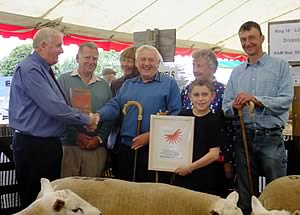 Arnold Park, along with his son, John and family accepted the award from NSA Scotland Chairman, Jimmy Sinclair, as they prepared to sell their renowned Suffolks and Texels.
The Parks' enterprise operates over 1,300 acres, on which they run 850 blackface ewes, 120 Texel ewes and 100 Suffolk ewes, as well as a small flock of bluefaced Leicesters. Arnold Park's successful breeding techniques stem from his experiences as a pig farmer, methods he was keen to apply to other livestock.
Drinkstone Texels' average estimated breeding value index is 326, compared with a breed average of 187. Their ram, Drinkstone Punt Fun posted the highest gigot score ever recorded. Arnold Park's approach is also underpinned by a strong environmental ethos; the farm hosts an area of special scientific interest and he takes a keen interest in ensuring that his grassland is of a very high quality without excessive use of nitrogen, potash and phosphates.
NSA Chairman Jimmy Sinclair, who presented the award said:
"The Parks deserve this award fair and square, not just for the obvious quality of their stock but also for their environmental achievements, especially their grassland management.
"We sometimes lose sight of the practical aspects of livestock farming, but everyday livestock and grassland management are paramount to sustainable farming, in financial and environmental terms. It is this combination of factors that made the Parks such clear winners of the 2010 Future Farmer Award."
2010 Future Farmer Award Winner, Arnold Park said:
"My family and I were delighted to receive the award. It is wonderful to know that our dedication to producing very high quality stock is recognised alongside our commitment to high environmental standards.
"The fact that we have increased our grass yield without recourse to nitrogen, potash and phosphates means that we have already reduced our carbon footprint massively.
"We shall host an event on our farm in the next year to share with the industry the methods that we use to improve breed quality and environmental management and are very grateful to the Elizabeth Murray Trust for providing us with the opportunity to highlight our formula to others."
· The Future Farmer Award is an initiative funded by the Elizabeth Murray Trust. NFU Scotland gives practical support. Each year a trailblazing Scottish farmer will be given £4,000 and a package of practical support to help them promote their ideas to other farmers and land managers.
The award aims to showcase ways in which Scotland can produce food, fibre and wood products from farms and crofts in a commercially viable way while maintaining the natural capital of the land and minimising the ecological footprint of farming activities.
Anyone farming in Scotland who is keen to inspire others to try practical ideas for improving sustainability is eligible for the award. Direct applications and nominations are accepted.

North Yorkshire Farm Dispersal Sale


Julian Smith Highlights Problems for Hill Farmers


Careers in the Countryside