North Yorkshire Farm Dispersal Sale
2010-09-13
Earlier today, the Shiptonthorpe office of George F. White announced details of their latest farm Dispersal Sale in North Yorkshire. This will take place on Saturday 25th September at Mowthorpe Farm near Scarborough and includes a quality flock of approximately six hundred sheep and range of farm machinery and equipment. The sale is a result of the retirement of farmers Bill and Michael Herd whose family have farmed Mowthorpe for the last 2 generations.
Mowthorpe Farm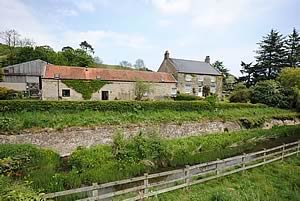 The sheep comprise 350 Ewes, consisting 200 Suffolk Cross, 100 Mules and 50 Charollais Cross. There are 10 Tups (5 Texels, 2 Dutch Texels and 3 Suffolks), 70 Suffolk/Mule Gimmer lambs and 170 Suffolk and Texel x store lambs.
The range of machinery includes a Massey Ferguson 4355 tractor ('52', 5,000 hrs); Claas Senator 85 combine (10' cut), Dowdeswell 4 furrow reversible plough; Kuhn HR303 power harrow; John Deere 459 square baler (1994 and Int 435D sq baler. There is also a wide range of mowing and potato equipment, trailers, sheep handling equipment and feeders.
George F. White hold regular dispersal sales throughout the North of England and due to the well bred, quality sheep flock and diverse range of old and modern equipment, Resident Auctioneer Tom Oates is expecting a lot of interest: "It is fantastic to be conducting our first Dispersal Sale in this part of the county. This is an excellent one to start with as it includes well maintained machinery and the sheep are bred from some of the strongest Gimmers purchases in the area."
The sale is being held on site at Mowthorpe Farm and George F. White are accepting by permission, machinery and items from anyone who would like to have them included. The sale conducted on behalf of M and L Herd will start at 11.00am with the sheep followed by the machinery sale at approximately 12 noon.
To reach Mowthorpe Farm, from the A170 to West Ayton, follow the first left turn signed for Hackness and Forge Valley. Mowthorpe Farm is on the roadside after approxiamately 2.5miles.
For further information or to register any items please contact Tom Mason at the Shiptonthorpe office of George F. White on Tel. 01430 876010 or visit www.georgefwhite.co.uk
Farm Equipment and machinery
Vehicles:- Massey 4355 tractor ('52', 5,000 hrs); Claas Senator 85 combine (10' cut).
Equipment:- Dowdeswell 4 furr rev plough; Kuhn HR303 power harrow; JD 459 Sq Baler (1994); Int 435D sq baler; ZTR 165 drum mower; PZ haybob; Spray care SE800/12 sprayer; MF30 grain drill; KKK cultivator; Parmiter Folding harrows; Gang roller; Vicon PS753 fert spinner on buggy; Russel 48 bale carrier; Airwood grain drier (3 ton); Acrobat; 2 x Single bale spike; Flat 8 grab; Muck fork; Earth bucket; Flat 8 sledge.
Potato:- Bed formwe c/w subsoiling legs and markers; Reekie 2 row planter; Reekie 300 SA De-stoner (new webs); 1 ton Tong hopper; Tong sorting table and assorted webs; conveyor; auto bag filler and weigher; stitcher; Potato elevator; approx 120 tonne boxes; sacks.
Trailers:- Triffit twin axle 8t grain; Ifor Williams TA510G/12 livestock c/w sheep decks; Rice twin horse trailer; 2 x flat trailers; ATV; 3 ton and 5 ton single axle.
Sheep Equipment:- Ritchie sheep handling equipment; lamb weigh; Lamb Creep feeders; electric fencing 3 reel system and 4 nets; nets; wooden hurdles; hay racks; round feeders; metal and wood troughs; assorted lambing spares.
Misc:- Bentall roller mill; augars; Spare wheels; gates; workshop tools; Ferguson pulley; Flexi coil drainage pipe; IPC tanks; Pallet trolley; pallets; saw bench; hand tools; welder; anvil; vices.
Fodder:- Small amount small bales straw

Julian Smith Highlights Problems for Hill Farmers


Careers in the Countryside


CLA Shares Platform with RSPB at Plaid Conference