Kuhn Modular Drill Now Available in Solo Format
2010-09-23
Kuhn Farm Machinery's new high speed pneumatic Moduliner drill that can be adapted for conventional or precision seeding is now available in solo format following its earlier launch in combination with a power harrow.
Kuhn Moduliner Solo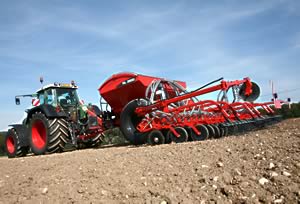 The Moduliner ML2800 is available in foldable 6, 8 and 9 metre working width formats for conventional seeding and has a standard hopper capacity of 2,800 litres, extendable to 3,500 litres. Road transport width is maintained within 3 metres in all formats.

The hopper – for seed when drilling cereals, pulses and oilseed rape or fertiliser when the Moduliner is adapted for planting – has an undercarriage and substantial supporting wheels (710/45 – 26.5 as standard or increased to 800/40 – 26.5 as an option). A standard three-point linkage for conventional or precision seeding units is located behind the hopper, giving the unit very good stability on roads and slopes, even when the hopper is empty.

As with Kuhn's Venta and Speedliner drills, the Moduliner incorporates the new Seedflex disc coulter system that improves soil penetration and consistency of sowing depth.

Seedflex disc coulters operate with a downward pressure of 35-40kg, which is a significant advantage over many comparable drills. This feature, together with the reduced soil contact resulting from the coulter design, gives the drill significantly better penetration. Each coulter unit is mounted on its own independently moving parallelogram system, which ensures a consistent sowing depth at each row and across the width of the drill. The Seedflex system means the Moduliner drills have great versatility, being able to operate accurately in a wider range of drilling conditions. Other key features include the good clearance (35 cm) between 2 rows of discs and – for simplicity and ease of operation - central adjustment of coulter pressure and seeding depth.

In-cab electronic control is facilitated on the Moduliner drills through Kuhn's Quantron S system, allowing features like on-the-move seeding rate control, pre-metering for start-offs at field corners, and early shut off of metering at the end of a field run. The basic equipment also includes hydraulic lifting of the coulter bar for good height clearance when turning.

County Durham Farm Dispersal Sale - Gatehouse Cottage Farm


New T-Max Tractor Slots into the McCormick Four-Cylinder Range


A1 Tractors – New McCormick Dealer for Central North Yorkshire