A1 Tractors – New McCormick Dealer for Central North Yorkshire
2010-09-16
Parts and service support coverage for McCormick tractor users in North Yorkshire has been improved with the appointment of a new dealer based in Dishforth between Ripon and Thirsk.
Long-serving staff member Keith Broughton manages the busy
workshop and parts stores at A1 Tractors' Dishforth premises.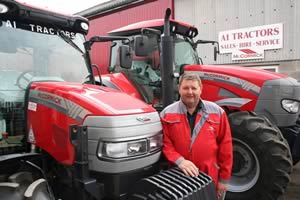 Frank and Barbara Ward's A1 Tractors partnership runs a tractor and equipment hire fleet and has provided cost-effective workshop services and parts supply to local farmers for the past 21 years and is now focussing on current McCormick tractors and their predecessors.
"We continue to provide parts and service for customers running tractors from our previous franchise but hope to build up our business with farmers using the McCormick machines," says Frank Ward. "We also have access to a competitive range of parts for their heritage predecessors, especially those built in the David Brown, Case and International Harvester factories that operated in Yorkshire."
Long-serving staff member Keith Broughton and local farmer's son Matthew Nelson handle tractor and machinery servicing and repairs, with Frank Ward's son Richard lending a helping hand when the demands of running the family's 300-acre arable farm allow. Specialist service training at the Harworth near Doncaster base of McCormick distributor AgriArgo UK will equip them to handle work on the tractors, together with diagnostic and other modern workshop tools.
"We're also supplying tractors, of course, and have one of the new 140hp MTX150s as a demonstrator," notes Frank Ward. "There's a 100hp CX110 in stock as well featuring the latest high-visibility cab design."
These two models are representative of a range that caters for all types of farming and rural enterprise – after all, today's McCormick line-up stretches all the way from a 23hp sub-compact machine for large domestic and commercial groundscare work to the TTX230 arable tractor with its 225hp 'power boost' engine and XtraSpeed eight powershift transmission.
A1 Tractors now supports this line-up in an area that extends from a line between York and Hovingham, west to Pateley Bridge, Buckton and Askrigg and north from beyond Harrogate to Catterick and Northallerton. The territory borders those of established McCormick dealers Agriplus to the north-east at Guisborough and Marwood Machinery to the south-west at Full Sutton, York and fellow new dealer N&S Moorhouse to the south at Barnsley.
"The McCormick range should suit the diverse types of farming we see in our area very well," says Frank Ward. "At the centre of this area, in the heart of the Vale of York where we're based, it's very much arable country; but just a few miles in either direction you're soon into mixed farming and livestock."
Having weighed up the opportunities that the new franchise offers and checked out how users and other dealers fared with McCormick products, he had no hesitation signing an agreement.
"I was impressed with what I saw at Harworth, especially in terms of the parts stock held there and the people I'd be working with," says Mr Ward. "I'm confident that with solid back-up and a product range that's improving all the time, taking on the franchise for the area will be good for A1 Tractors and for McCormick users past, present and future."

Three New Case Puma CVX Models for All-Round Applications


Case IH Unveils Next Generation of Magnum Tractors


Case IH Launches New Generation of Quadtrac and Steiger Tractors