New T-Max Tractor Slots into the McCormick Four-Cylinder Range
2010-09-16
A 'limited offer' tractor-loader package at a special price marks the launch of a new addition to the McCormick tractor range from distributor AgriArgo UK.
New McCormick T100-Max represents another price-spec package for buyers wanting a well-specced, low profile 92hp tractor.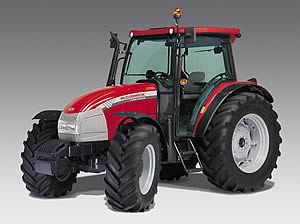 "With an all-in retail price of £42,072 for a 92hp T100-Max equipped with a McCormick IF20 hydraulic loader, this is a very special deal available for a limited period only," says AgriArgo general manager and sales director, Ray Spinks. "Given the size and spec of this new model, we expect a lot of T100-Max tractors to be put to work with a loader."
The new 92hp model bridges the price and specification of the lower spec McCormick C-Max and the more generously kitted CX XtraShift, while offering an alternative to the CX Synchro Low Profile package.
"With its low overall height and easy manoeuvrability, the T100-Max makes an attractive stockmen's tractor for operators who want more than the most basic specification," suggests Paul Wade, McCormick product specialist. "But it will also appeal to growers in the arable and horticulture sectors wanting a no-nonsense machine with a more versatile transmission."
Although similar in appearance to the 74hp to 92hp C-Max tractors, the T100-Max has a newly developed transmission with more gears, a tougher rear axle with planetary rather than spur gear speed reduction and more responsive lower link draft control sensing in place of a top link system.
In contrast to the C-Max's dry clutch transmission, synchro shuttle and mechanical pto/four-wheel drive engagement, the newcomer has a more durable wet clutch installation, three powershift ratios for easy speed control, a power shuttle for quick and easy changes of direction and modulated hydraulic engagement of the front drive axle and multi-speed pto.
"With the addition of the T100-Max we can now offer buyers four 92hp tractors of similar size but with variations in cab and mechanical specification to suit individual preferences," notes Paul Wade. "And with prices spanning about £7000 from the lowest to the highest spec, there is also sufficient choice to suit individual budgets."
For the list price of £30,498, buyers of the McCormick C100-Max get a 24x12 dry clutch transmission with mechanically-engaged pto and four-wheel drive. Air conditioning is installed as standard in the neat four-post cab.
Next up is the CX100 LP Synchro at £35,419 with a 16x8 dry clutch gearbox and two-speed powershift. Air conditioning is optional at £1291 but as standard the tractor has easy to use electronic three-point linkage control and draft sensing, hydraulic pto engagement and an electrically-operated four-wheel drive clutch.
The new T100-Max slots in next at £36,070. It scores over the C-Max and base CX with more transmission speeds, a power shuttle, hydraulic control of the pto and front axle drive, and a telescopic pick-up hitch. The implement lift is manually operated, as on the C-Max, but with lower link draft sensing.
The fourth option is the CX100 LP XtraShift, listed at £37,636 (plus air conditioning if required). This model features a 24x24 speed power shuttle transmission with three powershift steps, the added precision of electronic linkage control and a roomier cabin (as on the Synchro model) with tilt and reach steering wheel adjustment.
"We're giving buyers a fair degree of choice here to get the set-up that best suits their needs and preferences," notes Paul Wade. "But we're also more than matching what other manufacturers have to offer in tractors of this size and power."

A1 Tractors – New McCormick Dealer for Central North Yorkshire


Three New Case Puma CVX Models for All-Round Applications


Case IH Unveils Next Generation of Magnum Tractors