Case IH Unveils Next Generation of Magnum Tractors
2010-09-14
The new Case IH Magnum tractors are fitted with the latest EfficientPower technology to provide more power giving more productivity, along with an improved operator environment and outstanding fuel efficiency for higher performance.
Case IH Magnum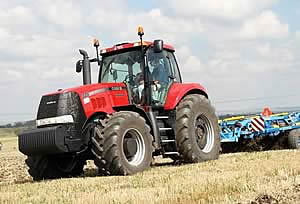 EfficientPower technology
To meet 2011 Tier 4A emissions standards, the new Magnums employ Case IH Selective Catalytic Reduction (SCR) technology for maximum performance with the lowest possible operating cost. This exhaust gas cleaning system is a technological development in collaboration with Fiat Power Train Technologies (FPT).

The new Magnum 235 to 340 models rely on the proven 8.7-liter engine used in the Axial Flow 7120 combine. These engines provide the responsive power growth that Case IH Magnum customers are accustomed to for tough pulling conditions, enhanced with new engine Power Management capabilities. Power Management provides more than 35 horsepower extra, available for transport, PTO and hydraulic demands.

Increased horsepower in all models
Every Magnum has increased horsepower to handle today's implements. The new line-up offers five models – starting with the Magnum 235, with 274 peak engine horsepower and at the top of the range, the Magnum 340 with 389hp peak with Power Management.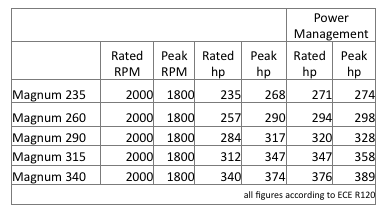 Magnum Operator Environment
The Magnum Surveyor™ cab still offers the same industry-leading space, all-round visibility and comfort that have defined the Magnum operator environment for decades.
It now includes the latest generation of Case IH operator control technology with the new MultiController Armrest console. Extensive customer feedback has further improved the control layout, putting key tractor functions at the operator's fingertips.
A new suspended cab combined with front axle suspension and the Positive Response seat option gives you a smoother ride in the field and on the road than ever before.
New MultiController armrest is standard
The MultiController Armrest is now standard in all Case IH high-horsepower tractors. From the Case IH Maxxum up through the Steiger/Quadtrac® tractors, operators will find the same armrest and same controls, with the same look, feel and operation. This means less time spent to get familiar when jumping from the cab of one tractor to another.
A new AFS Pro 700 colour display is integrated into the MultiController armrest, and moves with the operator's seat. The AFS Pro 700 allows control with modern simplicity, not only AFS AccuGuide autoguidance functions, but also other tractor functions, such as hydraulic flow. The AFS Pro 700 can be customised to display key tractor operating information most important to the individual for any given application.
Best possible fuel economy
While AFS AccuGuide makes steering simpler, Case IH also takes the effort out of selecting which gear and engine speed will achieve the best possible fuel economy while meeting power requirements. All Magnum tractors are equipped with the Automatic Productivity Management (APM) which automatically selects the most efficient gear ratio and engine speed combination. While APM is activated, the operator needs only to select the desired ground speed for optimised performance.
Fuel-saving Case IH SCR technology
Selective Catalytic Reduction (SCR) technology represents the best approach for high-horsepower agricultural equipment in 2011, especially considering the importance of fuel efficiency and reduction of unproductive time. The new Magnum engines are calibrated to do what they are designed to do best, deliver efficient combustion, which in turn contributes to EfficientPower technology.
The new Case IH EfficientPower technology uses SCR separate most of the emissions control away from the main engine function, unlike Exhaust Gas Recirculation (EGR) systems being used by other manufacturers to meet Tier 4A government standards. This technology does not recirculate exhaust gas back into the engine. There is no need for a larger cooling system – or a diesel particulate filter that utilises a heat-producing and fuel-consuming 'regeneration' process typically needed to meet Tier 4A with EGR. In an SCR system, engine exhaust passes directly to the catalytic chamber where it is combined with AdBlue, a non-toxic, colourless, odourless mixture of chemical urea and purified water. AdBlue converts Nitrogen Oxide into harmless water vapour and nitrogen released through the exhaust pipe.
Additional new features to deliver more productivity for the range
To increase the versatility of the range new options are available as a factory fit. These include:
• Front Linkage and PTO
• Up to six remote valves
New styling and added strength
The new hood design of Case IH Magnum models is derived from a new surround frame that cradles the wider Case IH engine and accommodates an improved cooling system. The sculptured chassis maintains best-in-class steering manoeuvrability and incorporated strength in drive line housings, rear axle and rear linkage are built in to accommodate the increase in power and deliver greater productivity.

Case IH Launches New Generation of Quadtrac and Steiger Tractors


Working Demo Launches Yorks McCormick Tractor Sales Outlet


Kuhn Farm Machinery at Tillage 2010