Food – Can We Produce Enough?
2010-09-24
As climate change continues to affect global food production, food security is an issue which affects us all. Gone are the days of growing more to keep other sources out, it's a new world in which everywhere must produce more food, more sustainably to meet rising world needs.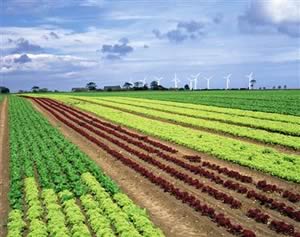 Food security is important to consumers and producers alike, with consumers expecting high standards and a wide choice of products. However, a number of blocks to raising UK food production loom; first is the skills shortage.

Peter Martin, Chief Executive of Lantra, the Sector Skills Council for environmental and land-based industries said: "This is a modern and technical sector, and if we are to meet the challenges climate change and food security throws at our farmers and growers we must address the critical shortages in the workforce now and take onboard the need for ever increasing levels of skills."

He added: "We must equip our farmers and growers with the right kind of specialist, cost effective skills support they need. There are thousands of businesses out there prepared to play their part but their vital role in feeding the nation has to be recognised and supported at the highest level."
The UK can easily grow more of the vegetables and fruit which nutritionists advise us to eat more of, yet only half of our vegetables and a tenth of our fruit consumption is grown here.

Robin McKee of the Ulster Farmer's Union Vegetable Committee said: "Food production will need to be managed in a way that responds to environmental and social sustainability. Climate change has caused many problems for growers, especially the shortened growing season."
Globally, food has catapulted up the priority list for governments because of a projected increase in the population, and the substantial increase in food prices in recent years. UK governments are also increasingly under pressure to ensure that farmers and growers are able to help the UK be more self-sufficient and capable of feeding the nation.

John Carson, organic beef and sheep farmer said: "Now is the time to look at the future of crops and move towards breeding new types; it may well be that climate change will provide opportunities to grow crops in Northern Ireland which are currently grown on other continents. Change creates opportunity, and the time has come when we may have to do things differently in the future."

Groceries Code Adjudicator Could Improve Food Business


SAC Gets Its Teeth Into Meat Eating Quality


Which Way Will the Genetic Beef Market Wind Really Blow?