SAC Gets Its Teeth Into Meat Eating Quality
2010-07-08
SAC researchers Professor Rainer Roehe and Dave Ross answered the technical questions as the next stage of a QMS sponsored project to deliver better meat eating quality was launched by Cabinet Secretary, Richard Lochhead at the Scotbeef Plant, Bridge of Allan.
(l-r) Richard Lochhead (MSP), Uel Morton (QMS), Suzie England (Scotbeef), Dave Ross (SAC)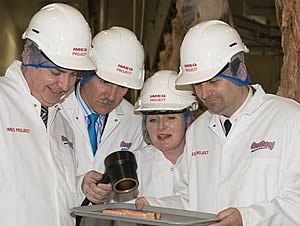 The world-leading IMEQ (Integrated Measurement of Eating Quality) project is a major part of Quality Meat Scotland's mission to maintain Scotland's reputation for quality meat production.
Costing £950,000 IMEQ is jointly funded by Quality Meat Scotland and the Scottish Government. It will involve integrating various technologies so that they can work on a commercial abattoir production line. The trials will explore semi-automatic and automatic means of measuring pH, temperature, meat colour, carcass fat, eating and nutritional qualities. They will provide valuable data for producers and processors.
Cabinet Secretary, Richard Lochhead, MSP described it as "truly ground-breaking".
"Our red meat industry is one of Scotland's great assets but competition on the domestic, European and world markets is fierce. We may be top of the league right now but we cannot afford to stand still. To maintain the premium of the Scotch brand we need to continue to invest and find new ways of satisfying consumer demands and expectations."
Speaking on behalf of the research consortium, SAC lead Research Engineer, Dave Ross said,
"Recent developments in research have shown the possibility of being able to use technology to measure meat and carcass quality in abattoirs in a semi-automatic or automatic way. This project presents an exciting opportunity for SAC and the other partners involved to develop these new processes and trials on the line at Scotbeef are an important part of the research and development."
Others in the consortium are University of Bristol, Peacock Technology, BCF Technology Livingstone, SCRI, E+V and Gilden photonics of Glasgow.

Which Way Will the Genetic Beef Market Wind Really Blow?


ASDA Offers Contract Prices to UK Suckler Beef Producers


Top Terminal Sire Index Aberdeen-Angus Bull sells for £20,000