Demand for Green Energy Creates New Jobs
2010-09-24
George F. White has announced the appointment of two new Project Co-ordinators for its specialist Renewables Team. Jayne Carrick will join the Alnwick office and Caroline Sellers, the Wolsingham office. Both bring with them a background in the very latest research and thinking on the green energy sector.
Jayne Carrick & Caroline Sellers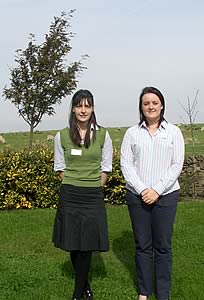 Since launching its subsidiary gfw-Renewables earlier this year, the rural specialist has been inundated with enquiries. The company offers independent advice to landowners who are trying to find out more about the potential opportunities offered by this very new and often very confusing sector. George F. White is already involved in numerous projects including wind turbines, solar and hydro power and anaerobic digestion but is having to expand to cope with demand for these services. Its specialist Renewables team guides landowners and users through the process of initial site survey, obtaining planning permission and finance and final installation giving them the opportunity to create both extra income and energy independence.
Jayne Carrick who will be based at the Alnwick office of George F. White has always been passionate about a career in green energy. Brought up on the family farm near Alston, Cumbria, she studied for a BSc Hons in Environmental Science at the University of Plymouth and an MSc in Renewable Energy and Enterprise Management at the University of Newcastle. Her knowledge of all aspects of renewable energy - technical, regulatory and commercial - mean she is uniquely qualified to assist the company's mainly rural client base. She has worked on a number of environmental projects, most recently with geo-environmental consultancy REC Ltd. She has a keen interest in biomass, a method of using organic matter to create energy which is of increasing interest to farmers.
Caroline Sellers from Stockton on Tees also has a strong interest in rural and environmental matters. An engineer by background she has an MSc in Environmental Engineering and Project Management and a BEng Hons in Energy and Environmental Engineering from the University of Leeds. During her studies she was involved in the Design of a 300MW Co-Fired Power Plant (Biomass and Pulverised Coal) and a Design of a Post Combustion Carbon Capture System. She has also had the change to study the latest European methods on creating renewable energy having worked for Energia E Ambiente in Portugal on a three month placement at the bio-mass fired power plant Central De Biomassa Terras de Santa Maria.
Partner Louis Fell who heads up the Renewables Team says, "We are delighted to have people with such enthusiasm and knowledge at George F. White. Interest in green energy and renewables is at an all time high and it is vital that we continue to expand our skilled team to help clients implement their projects quickly and efficiently."

Recognition Needed for Landowners in Fight to Protect Wildlife


Pessimists Blown Away by Record Wind Powered Electricity Generation


Enhanced Greenhouse Gas Calculator Launched at the CLA Game Fair