Enhanced Greenhouse Gas Calculator Launched at the CLA Game Fair 2010-07-23
The impact of Environmental Stewardship (ES) schemes on a farm's greenhouse gas (GHG) balance can now be calculated after the enhancement of a tool which measures GHG emissions and sequestration from agricultural production.
CLA President William Worsley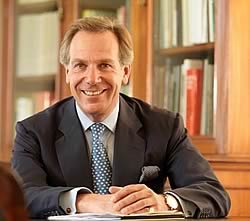 The Country Land and Business Association's (CLA) web-based carbon calculator CALM, developed with Savills, has been further improved with the help of Natural England.
It was launched by Richard Benyon, Parliamentary Under Secretary of State for the Natural Environment, on Friday, 23 July at The CLA Game Fair.
CALM (Carbon Accounting for Land Managers) was originally designed to measure the GHG emissions and carbon sequestration of GHGs from production agriculture - enabling farmers to calculate the carbon balance of their businesses.
Now the tool can also model the contribution made by Entry Level (ELS) and Higher Level (HLS) agri-environment schemes which are most likely to improve the GHG balance of a farm.
The improved calculator will be launched at 11.50am, at The CLA Game Fair, in the CLA Village at Stand Number H500, at Ragley Hall, Warwickshire.
Environment Minister Richard Benyon said: "We welcome this new work on the CALM calculator, which is showing itself to be extremely valuable in assisting farmers make the most of opportunities to contribute to managing the impacts of Greenhouse Gas emissions."
CLA President William Worsley said: "The pilot run of the upgraded calculator strongly suggests that Environmental Stewardship can make a worthwhile contribution to GHG emission reduction.
"Reductions in these emissions also result in cost-savings in most instances, which is particularly important in the current economic climate. The CLA is grateful to Natural England for its ongoing support of this project and to Savills for working with us on it."
CALM can provide land managers who have not considered Environmental Stewardship schemes before with one more piece of evidence of the positive role the schemes can play in their business.
Natural England Chair Poul Christensen said: "By highlighting the carbon savings delivered through agri-environment schemes, the enhanced CALM tool will be an important way of helping farmers manage the carbon footprint of their farms. The calculator makes the case for Environmental Stewardship and the Campaign for the Farmed Environment even stronger, adding improved carbon management to the long list of financial and environmental benefits that ES schemes provide."
Land managers also report that their use of the tool and their ability to share the results has helped to secure supermarket contracts and to achieve grain quality assurance standards. Buyers and end users are increasingly looking to their suppliers to provide the information that the tool produces.
Hugh Coghill, Head of Savills Rural Business, said: "The CALM calculator is an excellent and increasingly important addition to the 'toolkit' of farm and estate businesses. There is a growing awareness towards agriculture's contribution to greenhouse gases and with that will come accountability.
"By understanding the carbon balance of their business, farmers and land managers will be able to implement best practice towards efficient use of inputs especially energy and fertiliser."

Volcanic Ash and Farming


Gearing Up for the Renewable Heat Incentive


Careful Feeding Cuts Livestock Emissions by 15%