Quality Judges for Agri-Expo
2010-08-31
The judges have been announced for Agri-Expo, the leading autumn livestock event to be staged at Borderway, Carlisle on Friday 29 October by its organisers, Harrison and Hetherington.
Cattle judging at Agri-Expo 2009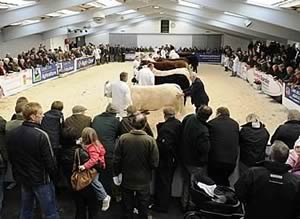 The livestock section with more than £10,000 at stake, will feature the National Suckled Calf and Primestock Show to be judged by Arfon Jones, of Anglesey who has more than 40 years of experience in the primestock ring. A holder of the supreme Smithfield championship, he has judged Smithfield classes at both Earls Court and the Bath and West showground, and is frequently found judging in the prime cattle ring up and down the country. Back home at Paradwys, Bordorgan, Anglesey he manages a 40 cow suckler herd with progeny taken through to finishing along with up to 300 bought in stores annually. He also buys in weekly more than 100 stores and finished cattle. "I'm really pleased to be invited to judge at Agri-Expo," he said. "Last year I was on the other end of the halter exhibiting at the event and I was impressed by the quality turnout of stock, the show layout and its smooth running."
Another Smithfield championship holder, Brian Glaves, of Scarborough has agreed to do the honours in the National Prime Sheep Show. Armed with judging experience in the ring at both the Scottish and English Winter Fairs and Smithfield, he has an understanding of the entire red meat chain. Mr Glaves farms pedigree Texel, Suffolk, Old English Leicesters and South Downs, together with a commercial flock producing up to 700 lambs a year which are slaughtered together with bought in lambs, cattle and pigs, in the family's abattoir to supply their own retail outlet. "I'm looking forward to sifting through some very strong classes at this event which is going from strength to strength," he said.
Ian Sowerby, Ormside Appleby will back his judgment in the Mule gimmer lamb ring by a lifetime's experience. "I have 50 years of buying in annually 350 in lamb Mules and selling them with lambs at foot the following spring. The practice complements our 150 cow suckler unit and we've found ourselves among the top lost in the sale ring on more than one occasion."
Agri-Expo will also be featuring for the first time the National Beef Shorthorn Society Calf Show, while the Aberdeen Angus breed society plans to grow its Winter National Show at the event. In addition, two calf shows, the Hereford Regional and Border British Blue, will be returning to Agri-Expo.
"We are optimistic of a high quality turn out of stock throughout the various sections and we are very pleased to have lined up a set of high caliber judges to do the honours," explained Harrison and Hetherington's event organiser and operations' director, David Pritchard. "Our plans are to grow Agri-Expo following its success last year which attracted more than 600 livestock entries, 100 trade exhibitors and over 10,000 visitors. We achieved a formula which proved to be appealing to both specialist livestock breeders and rearers and trade exhibitors alike from throughout the UK and beyond, and it's certainly one we are going to build on for the future."

Beef Expo 2011 Heading for Newark Showground


Catwalks and Cattle at Glendale Show


Glendale Agricultural Society No Longer Seeing Red