Beef Expo 2011 Heading for Newark Showground
2010-08-31
Next year's national beef event, Beef Expo 2011, will be held at Newark Showground in Nottinghamshire on Thursday, May 26.
Beef Expo 2010 was held at Hexham Mart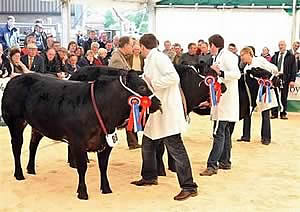 The annual showcase event for the UK beef industry, organised by the National Beef Association, is growing in stature every year and now requires more exhibition space to accommodate an expanding range of livestock demonstrations, educational/advisory exhibits, seminars and trade stands.
"Newark is an excellent venue in the centre of England and close to the AI which is one of the main arterial routes in the country," said NBA director, Kim Haywood.
"The showground is already home to the Newark and Notts Show each May and the Lamma machinery show in January and offers a first-class range of facilities for a major specialist event such as Beef Expo which attracts thousands of beef farmers, meat processors, butchers and other industry professionals from throughout the UK and Ireland each year, as well as visitors from overseas."
The organisation of the event will be in the hands of a local committee chaired by Mrs Rachel Gascoine, who is a director of both Newark Livestock Market Ltd and a family farming business with extensive beef interests in both Nottinghamshire and Yorkshire.
"We are delighted to have the opportunity of hosting this important event for the beef industry at Newark and look forward to welcoming visitors from all over the country, and further afield, to Nottinghamshire," said Ms Gascoine.
"Beef Expo is going from strength to strength each year and is firmly established as the flagship event for the beef industry in the UK, involving all sectors of the supply chain from primary producer to supermarket and butcher."
Features of Beef Expo will include the National Spring Spectacular Show of haltered suckled calves and store cattle, breed society exhibits, stockjudging competitions, machinery demonstrations, seminars and trade stands.
On the day before, Wednesday, May 25, there will be visits to two beef farms in the Notts area, and also the first part of the National Spring Spectacular which will include a show and sale of unhaltered prime cattle at Newark Livestock Market, in conjunction with the market's weekly sale of prime stock which is the biggest in the country. This will be followed by the annual dinner in the Dome at Kelham Hall on the outskirts of Newark which can accommodate up to 500 guests.
The NBA's corporate development consultant, Euan Emslie, who has organised the last nine Beef Expo's, has been appointed organiser for the 2011 event.
Beef Expo is held at a different venue each year and in recent years has been held at Hexham (2010), Malvern (2009), Perth (2008), Skipton (2007), Carlisle (2006), Builth Wells (2005), Edinburgh (2004), Aberdeen (2003) and Wooler (2002)

Catwalks and Cattle at Glendale Show


Glendale Agricultural Society No Longer Seeing Red


Michael Walton Looks Forward to the Glendale Show