Record Order for UK Aberdeen Angus Genetics to Brazil
2010-08-10
The largest ever order of UK Aberdeen Angus genetics has been secured by a British company. The order comprises 100,000 doses of British Angus semen which is destined for Brazil. More is in line to follow over the next two years.
Blackhaugh Time F610 – "up to 1,500 calves on the ground
in the UK already".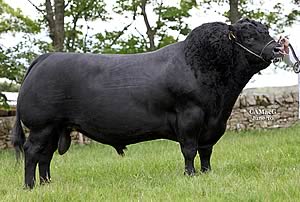 The deal – which is between Devon-based UK Sire Services and Parana-based Araucaria, one of the top cattle breeding companies in Brazil - follows years of liaison with Brazilian agents and trade missions between the two countries. The order represents close to 10 per cent of Brazil's annual Angus semen imports, the remainder of which comes mostly from North America.
"We have worked for many years to reach this point," says Rob Wills, director of UK Sire Services. "We have established agents in different countries, brought them to the UK to see the depth of quality and diversity of British genetics, and listened carefully to what each country and each company requires. "Then, and only then, have we been able to start the selection process.
"Brazil has been a target country for several years, particularly for Angus semen which is on an enormous growth curve for cross-breeding on the Bos indicus Nelore cattle," he continues. "And the fact that British Angus beef is produced largely from grass and forage – similar to that in Brazil but unlike grain-fed beef reared in North America – has worked in our favour."
Other strong selling points include the fact that the UK is home to the Aberdeen Angus breed and does not use hormones to achieve its good results for growth and conformation.
Marcelo Vezozzo, the owner and operator of Araucaria has been very specific in his demands, according to Mr Wills.
"Mr Vezozzo and his team, who have been to the UK to inspect animals, are looking for high genetic merit bulls in the top one per cent for calving traits and growth but with an emphasis on moderate frame score and 'softness'," he says. "That is to say, they need slightly more fat cover than usual for the UK market, while the bulls are required to be smaller than those that suit many UK tastes."
Bulls which are represented in the order come from throughout the UK, including the Blackhaugh and Tofts herds from the Scottish borders; the Melview and Nightingale herds from the Westcountry; and the Rosemead, McClemens, Warrenho and Lockerley herds from Southern and Home Counties.
All bulls are collected at one of two UK Sire Services premises, in either Devon or Kelso.
"We are absolutely focussed on gaining maximum export exposure for each of our owners' bulls, whatever the breed, and we're delighted to have secured such a significant order for so many British farmers," says Mr Wills.
"Brazil already imports over one million straws of Angus semen a year, having increased its imports by a staggering 374 per cent in the past five years.
"We had set ourselves the target of gaining 10 per cent of that market within three years, but we have got there in one. This represents by far the biggest single beef semen export this country has had for years – and we must continue to build on it quickly."
Ron McHattie, chief executive of the UK's Aberdeen Angus Cattle Society adds: "This order is hugely important for the profile of the UK breed because historically we have been importers of Aberdeen Angus genetics.
"This is the first major export of this size and it's a reflection of the strength of the Aberdeen Angus genetic pool, in so far that overseas breeders are now actively using our genetics in their breeding programmes."
Andrew Elliot, who uses Angus bulls on his extensively managed suckler herd near Galashiels on the Scottish borders, says three of his bulls will contribute to the consignment.
"For the Brazilian breeders who visited our farm, I'd say the thought of having to handle cattle to calve them would be incomprehensible," says Mr Elliot, who adds that he too sees calving ease as a 'necessity' and 'not a luxury'.
Also looking for animals that are moderate in size when they are mature, he says he seeks Estimated Breeding Values for growth rates in the top 10 percent, and 'easy fleshing' progeny for better finishing and over-wintering.
Commenting that one of his bulls – Blackhaugh Time F610 – has up to 1,500 calves on the ground in the UK already, he adds: "Reports of their calving ease as well as their growth rates and quality give me complete confidence that these bulls will produce what the Brazilian market demands."

40th Anniversary Simmental Sale at Omagh


Simmental Breeders at Enniskillen Show


Cloned Cattle Must Be Identified Says NBA