2010-07-27
The UK's second largest co-operative grain store has unveiled the first phase of a £2.5m state-of-the-art upgrade ready for this year's harvest.
Next phase - Richard Catterall, left, Northumberland Agricultural and Rural Banking Manager, and Ian Brown of Regional Development Agency, One North East, cary out the official opening of the latest improvements at Coastal Grains, Belford.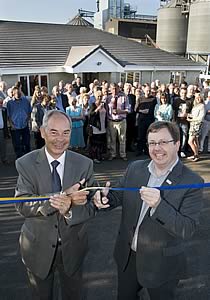 New facilities at Coastal Grains in Belford, north Northumberland, have boosted the site's grain drying, testing and handling abilities for its 100-plus members and their food industry buyers.
Phase one of the improvements has doubled Coastal's grain handling capacity on its first drier, a Svegma 6m drier rated at 80 tonnes per hour removing 5% moisture at 100ºC, nominally 100tph on feed wheat.
The new drier and Skandia handling equipment from BDC Systems and supplied through local agent Yorkshire Storage Systems has radically increased the speed of the collection, drying and testing processes. This installation represents the latest stage of a relationship between Coastal Grains and Skandia, represented in the UK by BDC Systems, that goes back to 1997.
The three new dryers, when they are all installed, will be able to dry up to 240 tonnes of grain per hour and together with the introduction of top laboratory testing equipment means that the co-operative's facilities are as good – if not better - than those used by anyone in the country.
The new offices and upgraded laboratory now include equipment which reads protein, moisture, volumetric weight, oil values as well as testing for micro-toxins and other quality tests. This first class testing equipment means Coastal Grains can meet the exact requirements of end users in the milling, malting and distilling industries, and complies with that used by the multi-nationals.
Coast Grains chief executive Terence Pardoe said: "The upgraded facility is all about quality control – it co-ordinates Coastal's testing and specs with that of its buyers.
"Users are looking to procure product from homogenous grains storage which cooperative central stores are capable of providing. Grain standard is similar time after time. They're getting a known specification and a product they can set their equipment to and know they are getting consistently the same product.
"We test produce that comes straight from the farm prior to tipping so that the grain ends up in the right bin and with the right quality. We test grain as it comes in from the farm as well as before it goes out to be processed."
The co-operative, which was set up in 1982, is mainly made up of members from within a 30-mile radius of Belford but is also used by farmers from the Scottish Borders and as far south as Hexham in the south east Northumberland.
Initially able to store 10,000 tonnes of grain, Coastal's capacity currently stands at 100,000 tonnes. The site can handle and segregate up to 60 different types of conventional and organic grain at any one time.
The first phase has created one new job, boosting numbers to nine full time and nine part time staff, with plans for a further position in the future.
Mr Pardoe said: "The upgrade has safeguarded the above jobs by allowing Coastal to expand and move forward with the latest technology.
"The new equipment will also add value to our members' products at a cheaper price than our competitors. Coastal Grains proves the value of co-operation here in the North East and the great benefits to our farmer members and the food industry. It's a great boost for the grain growers of the North and provides the highest returns for our members."
In praise of the new Coastal Grains upgrade, chairman of the North East England Food and Drink Group and Government advisor on farming and food, Sir Donald Curry, said:
"This new facility reflects the progress being made within the farming and food sector in the North East, with Coastal Grains rising to the challenges the sector faces and positioning our region as a leader in co-operative grain storage.
Coastal Grains, its members and directors must therefore be applauded for tackling issues head on in the current climate, with their drive and commitment contributing to a more profitable and sustainable future for both their members and the industry as a whole."
The upgrade facilities were officially opened by Ian Brown of Regional Development Agency, One North East, and Richard Catterall, Northumberland Agricultural and Rural Banking Manager. One North East provided a 40% grant towards the £2.5m improvements.
Phase two of Coastal Grains' upgrade is due to be completed next year.

Traditional Hybrid OSR Barriers Breaking Down


Jatropha - a Bioenergy Crop for the Poor


British Growers Research & Development Support Priorities