2010-07-26
Traditional barriers to the increasing uptake of hybrid oilseed rape across the UK appear to be breaking down as more growers come to appreciate the superiority of the best of today's hybrid varieties in key areas of establishment vigour, ability to tolerate late sowing and spring growth.
To such an extent, indeed, that around two thirds of all growers – and over half of those with no hybrid growing experience whatsoever – could be persuaded to commit increasing areas of their cropping to hybrid varieties even in the absence of superior gross output ratings.

These are among the interesting findings of the first-ever national hybrid oilseed rape study conducted independently on behalf of leading breeder, Dekalb with more than 230 growers responsible for over 15,000 ha of OSR across the UK this season. Of these, over two thirds have grown hybrids at some stage, the majority of them starting to do so within the past three years.
Altogether, hybrid varieties comprised around 40% of the crop they harvested last season, with Excalibur dominating the acreage and delivering an average yield of 4.0 t/ha against the 3.8 t/ha average for the only other variety with a sufficient spread of crops and area to make meaningful comparisons – pure-line Castille.

Perpetual slug and pigeon problems, increasing fertiliser costs and restrictions and increasing agrochemical costs are identified as the three most important challenges facing OSR growers today, with less reliable autumn conditions and growing disease threats also seen as important by many.
"Against this background, it's not surprising that establishment vigour, disease resistance/tolerance, standing power and performance consistency stand out as growers' most
important variety selection criteria alongside output," points out Dekalb technical specialist, David Leaper. "Nor is it any surprise to us to see the extent to which those with recent experience of hybrid growing consider the best hybrids to have clear advantages over other varieties in both autumn and spring vigour and tolerance of late sowing.

"The fact that the majority of growers also find particular hybrids as easy to manage and harvest as other varieties further reflects the considerable recent progress made by hybrid breeding.

"What does surprise us, though, is the large number of those who have never grown hybrids considering them to be better than other varieties in the key areas of autumn and spring vigour and late sowing tolerance," David Leaper observes. "Even they, it appears, are now really appreciating the appeal of our modern hybrids."
An even more striking measure of the far more positive light in which growers are viewing hybrid OSR varieties today comes from the study's assessment of future hybrid-growing interest.

Only a minority of UK growers, it appears, are unprepared to consider any increase in hybrid growing, with 70% likely to be persuaded to do so by varieties with higher gross
output ratings than others. Even more interestingly, nearly as many growers could be persuaded to increase their use of hybrids by varieties better able to tolerate difficult seasons than others or showing a more consistent performance even without any gross output advantage (Figure 1).
Figure 1: Willingness to Consider Increasing Hybrid Growing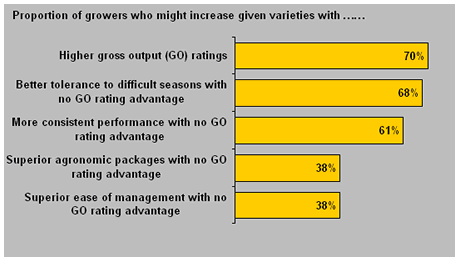 Nor is this willingness to be persuaded by hybrids merely confined to existing growers. Indeed, more than half of those who have never grown hybrids to date might be persuaded to do so in the absence of any gross output advantage by varieties showing more consistent performance or better tolerance of difficult seasons.
"Given the way in which the best hybrids are currently valued by growers for their all-round vigour and tolerance of less-than-ideal growing conditions, these findings suggest hybrid growing is likely to become increasingly popular as a way of minimising commercial growing risks," comments David Leaper.

Jatropha - a Bioenergy Crop for the Poor


British Growers Research & Development Support Priorities


Farming Background Influences Tony Pexton's Appointment to BCPC Board