2010-07-20
Stephen Gilbert, former managing director of what is now the globally successful agricultural and amenity seeds business Germinal Holdings Limited, has died aged 97 in Whiteabbey, Northern Ireland.
Stephen Gilbert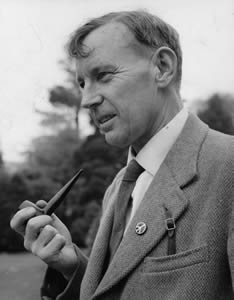 Also a writer and novelist of great repute, Stephen Gilbert first joined what was then McCauslands tea and seed merchants, where his father was managing director and chairman, in the mid-1930s. He served in the Second World War (being decorated for bravery in the face of an enemy advance) before returning to the family business.

Under Stephen Gilbert's leadership – and later that of his son John – the Banbridge-based company developed throughout Britain and then internationally through the latter half of the last Century. The company established its base in Bristol in 1953 and by 1969 had formed British Seed Houses. In 1988 the company forged its significant and on-going relationship with the Welsh Plant Breeding Station, now IBERS, from where the Aber ryegrass varieties now so widely used in agriculture and amenity sectors are bred. Germinal Holdings continues to grow on a global scale, recently investing in new premises in Lincoln and with interests as far afield as New Zealand.

Once described by EM Forster as "a writer of distinction" Stephen Gilbert also wrote novels of critical acclaim, including The Landslide, Monkeyface and The Burnaby Experiments. Born in Newcastle, Co. Down on 22 July 1912, Stephen Gilbert married Kathleen Stevenson in 1945 and had two sons and two daughters. He died on 23 June 2010.

Take-All Levels Build Despite Driest Spring for 80 Years


Northumberland Farmer Scoops National Prize


Time to Check Crops for Poor Black-Grass Control