2010-06-29
Rising concerns over poor levels of black-grass control in some of this year's cereal crops mean growers must make a determined effort to identify affected fields this summer, a technical grass weed expert is warning – so that any resulting increases in black-grass seed carryover can be dealt with properly in next season's crops.
Black Grass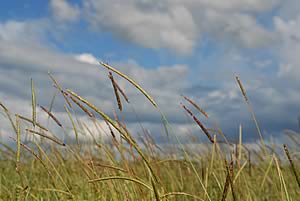 "Although weed mapping of fields can be a time-consuming process, it could be a vital starting point for getting on top of the problem for next season," says Simon Parker of Syngenta.

"While some fields have undoubtedly shown good levels of black-grass control, others have come off much worse. Whether this variability is due to resistance to some herbicides applied post-emergence of the black-grass, or whether it's due to them being applied in less-than-ideal conditions, isn't clear yet.

"But one thing's for sure, with variable control, identifying worst-affected fields is likely to take on added significance for dealing with the problem for next season – because weed burdens could be proportionally higher."

To tackle the issue, Mr Parker advises growers to walk fields properly now that black-grass is visibly in head above crop canopies, and to earmark affected fields for special attention.



Check fields carefully this summer, urges Simon Parker of Syngenta, so that any increases in black-grass seed carryover from poor control can be dealt with properly in autumn-sown crops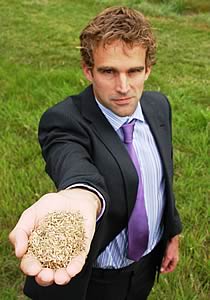 Additional cultural and chemical techniques may then be needed to deal with weed seed carryover into winter wheat and barley, he says, including ploughing it down, delaying drilling until after the first flushes have germinated, and using more robust pre-emergence herbicide strategies and mixtures to reduce early weed competition. Tank-mixing the pre-emergence herbicide Defy with a flufenacet-containing treatment, for example, has boosted control by around 10%, he points out.

"Don't be tempted to simply try and weed map from the combine cab at harvest," urges Mr Parker, "because by then black-grass will have shed seed and be less obvious.

"Instead, take time to assess fields now on an individual basis. Even if only part of a field is affected still note it down. Ideally go armed with a map of the farm, and perhaps score fields on a 1 to 5 scale from least to worst affected. A single black-grass plant can produce 1000 seeds.

"When it comes to management, burial through ploughing can reduce black-grass by more than 60% compared to tine/disc cultivation. Similarly, sowing cereals in October rather than September has the potential to reduce black-grass plant densities by around 14%.

"Sowing crops at higher seed rates can also help suppress black-grass, as too can choosing competitive wheat and barley varieties, for example those that produce good ground cover.

"When controlling weeds in the crop, pre-emergence treatments are always important but could be even more so this year. Mixing two robust pre-emergence herbicides to achieve better early control will ease the pressure facing later post-emergence treatments. Increasingly we're seeing Defy as a key partner for flufenacet-containing pre-emergence treatments," he adds.

Usefully, Mr Parker says Defy can be used in both wheat and barley, so fits at multiple stages of the rotation – whether a first wheat where black-grass is expected after a break crop, a second wheat, or in barley which may be the second or third cereal in the rotation.

"Pre-emergence tank mixture options in winter wheat include Defy + flufenacet / diflufenican or Defy + flufenacet / pendimethalin. Or in winter barley, growers can use pre-emergence applications of Defy + flufenacet / diflufenican, Defy + flupyrsulfuron, or Defy + diflufenican," he says.

British Ploughing Celebrates 60th Year in Lincolnshire


Russell Smith Farms Wins East of England Farm Business Award


Much Wenlock Trial Site Shows Off Latest Wheat and Barley Varieties