McCormick Subcompact Tractor Can Tackle a Wide Range of Jobs
2010-06-15
Farmers with a good-size lawn, equestrian enterprises with paddocks to maintain and smallholders needing a general purpose power unit are among potential users of the new sub-compact 'CTJ' tractor from McCormick.
First sub-compact tractor in the McCormick range comes with hydrostatic drive and a choice of 23hp or 27hp engine outputs.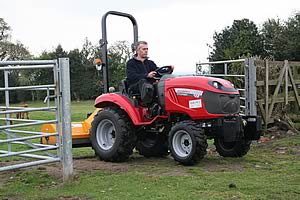 The newcomer is available with a choice of two diesel engine outputs – 23hp and 27hp – fed by a generously-sized 25-litre fuel tank and coupled to a two-range hydrostatic transmission.
"Apart from giving easy and versatile speed and direction control using a large plastic rocker pedal, the CT's hydrostatic drive has a fast top speed," notes McCormick product specialist Paul Wade. "It also has cruise control to give a set speed over long runs, and a two-speed gearbox so the driver can set the transmission for speed and agility or finer control and extra torque."
The McCormick CT23 and CT27 – generally referred to as the CTJ to reflect their junior status in the range – complement an existing line-up of Compact tractors.
The 28hp CT28, which is available with gearbox or hydrostatic drive, is a little bigger and heavier than the newcomer, while the 41hp CT41 and 47hp CT47 are a step up in size and have hydro drive only. For a gearbox drive Compact, McCormick GM tractors of 35hp, 44hp, 49hp and 54hp fit the bill.
"The junior CT tractors are suited to professional users who want something small and nippy for grounds maintenance work, as well as private users with large gardens, horse paddocks and stable yards to maintain," suggests Paul Wade. "With class-leading implement lift, independent pto, a strong chassis rail structure, and relatively high top speed, they are tough, productive little machines."
Wet, multi-disc brakes, four-wheel drive and electronically controlled hydraulic steering add to the 'professional' spec of the tractors and operators will find the 'work station' layout puts all essentials close to hand.
Mudguard-mounted controls for the mechanical range shift, hydraulic lift, spool valves and pto are on the right; four-wheel drive and high-low gearbox on the left. With engine speed and cruise control on the uncluttered dash and the parking brake operated by a floor lever, the CT23 and CT27 are easy to operate.
When it comes to using implements, the tractor's mechanically-controlled three-point linkage will heave 670kg from the ground and its power take-off facilities can drive rear- or mid-mounted equipment, such as a sweeper and rotary cutting deck. A two-year warranty is standard, as on all McCormick CT tractors.
For servicing and maintenance, the one-piece clamshell hood lifts clear to give access to the engine air filter, lift-out 'fly catcher' radiator screen and other service points.
"This little tractor extends the McCormick range, which is still best known for its full-size farm and turf tractors, into new territory," notes Paul Wade. "But using proven technology makes it a sub-Compact with no performance deficit."

New from Kuhn at Cereals 2010


Kuhn Reinforces Sprayer Credentials at Cereals 2010


New Appointments at John Deere