New Appointments at John Deere
2010-06-07
Peter Leech has recently been appointed regional training manager for John Deere's agriculture & turf division in region 2 (Europe, CIS, North Africa, Near & Middle East). He has been replaced as customer support manager for the UK and Ireland by Stuart Minter.
Stuart Minter & Peter Leech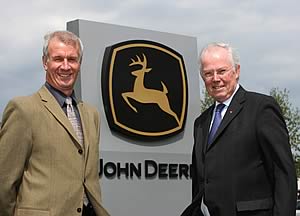 In addition, Chris Wiltshire is John Deere Limited's new green crop product manager for self-propelled forage harvesters, balers and mower-conditioners. He replaces Richard Halsall, who has moved to John Deere Zweibrücken in Germany as self-propelled forage harvester division manager for region 2.
In his new role, working from Langar, Peter Leech will be responsible for the region's training delivery operations, including the sales branch training centres, covering the key areas of parts, sales, service and dealer development training. During his 38 years with John Deere, Peter has been responsible for the development of the company's award-winning apprentice technician training programmes (Ag, Parts and Turf Tech), and the industry wide LTA technician accreditation scheme. He has also been chairman of the AEA (Agricultural Engineers Association) training & education committee, and is just beginning a two-year term as president of IAgrE (Institution of Agricultural Engineers).
Chris Wiltshire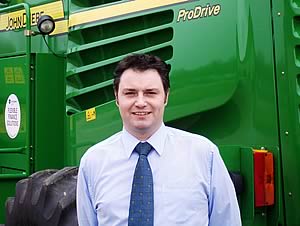 Stuart Minter joined John Deere Limited in 1979 as a service trainee and technical instructor at the UK training centre. He was subsequently area service manager and then territory manager for southern England before becoming division service manager for the UK and Ireland in 1986. Stuart was responsible for developing John Deere's national dealer service standards, and more recently has been closely involved with the industry wide 'Look Behind You' campaign to promote safe tractor and trailer braking. He has also been chairman of the AEA service managers committee.

Chris Wiltshire joined the company in 2000 as an agricultural demonstration instructor and became an ag demonstrator/marketing specialist the following year. Chris then moved to a marketing position in Zweibrücken at the end of 2002, and returned to the UK in 2004 as territory manager for northern England and the Scottish Borders.

John Deere Opens New Manufacturing Facility in Russia


Cast Chassis Beefs up Six-Model Landini 7 Series Tractors


First Customer Takes Delivery of New McCormick MC130 Tractor