Kuhn Reinforces Sprayer Credentials at Cereals 2010
2010-06-10
Kuhn Farm Machinery's increasing presence in the sprayer market was confirmed at Cereals 2010 with the company taking part in working demonstrations for the first time.
Kuhn Atlantique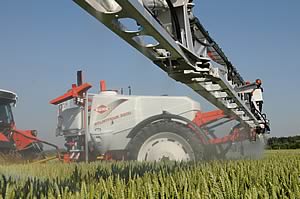 Trailed Atlantique in action
The main machine demonstrated by KUHN was the trailed Atlantique, which is available with 2400, 2800 and 3200 litre tank capacities and 18-30 metre boom widths in steel/aluminium or aluminium construction.
An injected polyester construction gives the tanks a smooth easy-rinse internal surface, and all models have a 300-litre rinsing tank that is sufficient to flush the entire machine.
The Atlantique has hydraulic boom slanting and a boom height that is adjustable from 0.7m to 2.2m. The axle track width can be adjusted from 1.5 to 2.25m to be compatible with the tractor track. There are also three different drawbar positions so that the frame remains horizontal at different coupling heights.
The Atlantique operates with a robust and accessible piston pump, with an output of 265 litres/minute.
There are three control box options on the Atlantique, with the more basic DPS facility having an hydraulic function selector (opening / closing booms, tilt correction, etc) as well as in-cab pressure adjustment and electrical sequential section shut-off. The more advanced RSB3 box allows direct output measurement, application rate adjustment, simultaneous forward speed and output display, data storage and sequential shut-off. The REB3 controller is based on the RSB3, but provides a wider range of functions for the professional user. These include pressure variance warning and automated boom lifting and lowering to pre-set heights.
Other trailed sprayers in KUHN'S range include the Baltique (2400 - 3200 litres), Grand Large (up to 3900 litres) and the Oceanis (4000 - 8000 litres).
Mounted sprayers
Kuhn Deltis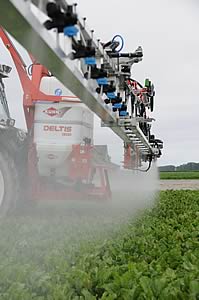 Kuhn also displayed machines from its tractor-mounted range at Cereals, including the Deltis that was on display in the UK for the first time.
According to the company's UK sales manager Duncan McLeish, all the models in the range are designed to meet the requirements of UK arable farmers and will offer some significant advantages for many.
The Deltis, with compact polyethylene tanks and forward centre of gravity, is available at up to 1200 litre capacity and 24 metre boom width for tractors of limited size.
"This machine is notable for its suspended mounting, which reduces the stresses on the machine when in transport. More damage is done to sprayers in transport than when in use in the field, so this is an important advantage and again shows that the design is focused on low maintenance and longevity."
Other mounted sprayers in KUHN'S range include the Omis (600 - 1200 litres) and the Altis (1300 - 1800 litres).

New Appointments at John Deere


John Deere Opens New Manufacturing Facility in Russia


Cast Chassis Beefs up Six-Model Landini 7 Series Tractors