2010-06-23
Having been praised by expert judges as having a first class farming business, Russell Smith Farms at Duxford, Cambridge, were named the 2010 East of England Agricultural Society's supreme champion in their Farm Business Awards, sponsored by Atlas Fram Group.
Andrew Nottage, Russell Smith Farms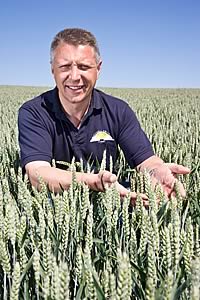 The farm, which is managed by Andrew Nottage, came through as winner from the 1701 – 2500 acre category and was then judged by supreme championship judge Mark Ireland, who commented: "Russell Smith Farms have a strong management structure which leads to efficient day to day operation. Fully utilising the resources on farm, both on an arable and diversification level, I found this farm to be a very impressive farm business."
The farm comprises 1852 acres (750ha) and crops grown are peas, sugar beet, potatoes and onions, as well as areas set aside for environmental management and cereal trials.
Speaking at the Awards ceremony, held last week at the East of England Show, Mr Nottage said: "I'm obviously very delighted to have won this Award. It's a great honour after such thorough judging and a great pat on the back for all the team at Russell Smith Farms."
Taking the reserve championship having won the 2501 – 10,000 acre category was Charles and Richard Tyler of D Tyler and Sons, Redhill Farm, Oakham, Rutland. This 3243 acre (1309ha) farm which is also home to 1900 ewes, a contracting business and crops including wheat, OSR, beans, permanent pasture and woodland.
Award's judge Mr Ireland thought: "Charles and Richard Tyler are incredibly customer focussed in terms of their contracting clients. They have taken the opportunity to invest widely in their business to improve capital infrastructure and compliment the contracting side of the business."
Commenting on the standard of entries this year, East of England's Kerry Buttriss said: "This has been the best year for entries for the Awards. We've had some amazing farmers enter and competition has been very tough in all categories. The East of England Farm Business Awards is a great way of recognising the very best farmers in the area."
Full category results:
Supreme Championship: RUSSELL SMITH FARMS, CAMBS
Reserve Supreme: D TYLER & SONS, RUTLAND
Supreme Countryside: ANDREW BROWN, LEICS
Reserve Supreme Countryside: BABRAHAM FARMS, CAMBS
CLASS 1; 0 – 700 ACRES
ARABLE: N J HARRIS, CAMBS
COUNTRYSIDE MANAGEMENT: ANDREW BROWN, LEICS
CLASS 2; 701 – 1700 ACRES
ARABLE: I W RENNER & SONS, RUTLAND
COUNTRYSIDE MANAGEMENT: BABRAHAM FARMS, CAMBS
CLASS 3; 1701 – 2500 ACRES
ARABLE: RUSSELL SMITH FARMS, CAMBS
COUNTRYSIDE MANAGEMENT: MR A CROSSLEY, TRUMPINGTON FARM COMPANY, CAMBS
CLASS 4; 2501 – 10,000 ACRES
ARABLE: D TYLER & SONS, RUTLAND
COUNTRYSIDE MANAGEMENT: JASON TURNBULL, COLLYWESTON FARM PARTNERSHIP, LINCS
SPECIAL ENTERPRISE AWARDS
K M Wilkinson & Sons, Manor Farm, Netherdyke, Rutland and Northants Training Group
J Andrew & Son, Holmes Farm, personal turbine microgenerator
N J Harris, Sissons Farm Equestrian Centre, Sissons Farm Equestrian Centre
David Hutchinson, Manor Farm, Strixton, Strixton Manor Business Centre
SPECIAL AWARDS OF MERIT
Outstanding quality of miscanthus crop- K M Wilkinson and Sons, Manor Farm
Outstanding quality of livestock - C Horrell Ltd, Pode Hole Farm
Direct drilling combined with GPS technology - I W Renner & Sons
Innovative approach to their farming system - I W Renner & Sons
Conservation within the HLS - David Hutchinson
Business and personal management and respect for the local community- Jason Turnbull, Collyweston Farm Partnership
BEST FIRST TIME ENTRANT
D Tyler & Sons, Redhill Farm

Much Wenlock Trial Site Shows Off Latest Wheat and Barley Varieties


New EnCompass Software Makes Nutrient Planning Easier


Wheat Rust Tracking Site Launched