2010-06-07
GrowHow UK is encouraging all farmers and their advisers to enhance the use of Nutrient Management Plans.
GrowHow Advice & Services Manager, Clive Deeley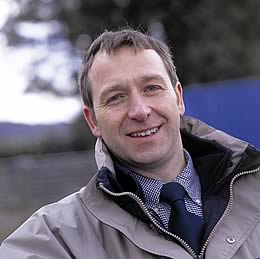 "Since the introduction of Nitrate Vulnerable Zones and cross compliance, Nutrient Management Plans have entered the farming vocabulary," says GrowHow Advice & Services Manager, Clive Deeley. "However, because the plans are associated with regulatory requirements their agronomic benefits are sometimes missed," he suggests. "In reality, Nutrient Management Plans have far more to offer."
As the UK's only fertiliser manufacturer, GrowHow UK developed its first nutrient management planning systems long before the regulatory requirements came into force.
"Our EnCompass system started life as a simple recording spreadsheet, used exclusively by GrowHow Advisers as an in-house tool in order to keep track of nutrient requirements and produce simple nutrient plans for farmer customers," explains Mr Deeley.
The last decade or so has seen considerable investment in specific tailored software culminating in the latest upgrade which has just been completed. This has involved a radical change to the platform the system runs on. "New EnCompass is much more intuitive making it quicker and easier to use than the earlier versions. We now have a 21st century product," he says.
EnCompass produces the paperwork farmers need to record good practice and regulatory compliance, but it does much more than that. "In the new version, we have deliberately highlighted the practical side of the system and in particular the fertiliser spreading report. These operator instruction sheets have been designed to help spreading operators ensure fertilisers are spread in the right place, at the right rate and the best time."
Unlike other products on the market, EnCompass is specialist nutrient management software so it does require a good understanding of crop nutrition. There's a lot more to it than just plugging in a few numbers and getting a standard recommendation.
"EnCompass allows users to adapt and refine fertiliser recommendations to take account of, for example, soil nitrogen supply, varietal improvements, local knowledge, field history and so on," explains Mr Deeley. "In short, EnCompass produces tailor-made recommendations for the farm, not just what you can and cannot do within compliance requirements. It is all about using nutrients efficiently to optimise crop yield and quality by targeting inputs to plant requirements and crop potential, benefiting the farmer economically whilst protecting the environment and reducing the carbon footprint."
EnCompass as a product has not previously been mass-marketed, but with the new user-friendly platform, the company expects the program to be much more in demand.
"We are planning to offer advisers new to the system the chance of setting up a few farms to try it out. If they like it they will then be asked to pay the license fee for continued access. It is only by using the software that you can begin to understand just how useful it is. For this reason we are confident that many more agronomists and advisers will want to have access," he says.
One of the new developments has been to create a 'super-user' facility. Super-users will be experienced EnCompass-trained advisers who will be given access to their colleagues' records to provide support and guidance to less experienced users within their companies.
"We also see the potential for super-user groups to be created to support farmers who are interested in using the software themselves."
Another enhancement is the addition of templates. These provide a selection of example recommendations for standard cropping situations so that users do not have to create everything from scratch. This will help to speed up the EnCompass experience.
Farmers and advisers interested in finding out more about the EnCompass program should email GrowHow Advice Support Manager John Scott on: john.scott@growhow.co.uk

Wheat Rust Tracking Site Launched


Wynnstay Acquires Woodheads Seeds Ltd


Risk Minimisation Key for Wheat Improvement - RAGT Seeds