Scotgrass 2010 Showcases Wide Range of Products
2010-04-22
Scotgrass 2010, to be held on Tuesday 11 May, at SAC Crichton Royal's Acrehead Farm, Dumfries, will see a wide range of products on show for the first time as manufacturers put new machinery in action at the first live demonstration of the year.
John Deere 7950i self-propelled forage harvester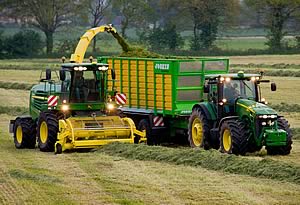 One of the biggest on show will be the new John Deere 7950i self-propelled forage harvester. This machine offers increased power and capacity and an early warning system that constantly monitors wear and tear on all the crucial bearings. The 7950i will also adjust cut length to suit the moisture content of the forage.
John Deere has completely updated and renumbered its range of round balers for the coming season. There are now eight basic variable and fixed chamber models with a range of pick-ups and feeding systems, extra options and new features, including an improved knife design for increased quality of cut and productivity. The 623 and 644 Premium fixed chamber balers, the 864 Premium variable chamber baler and the 744 Premium wrapping baler will all be demonstrated at the Ecosyl sponsored event.
Lely Welger is showing its new RP 245 range of fixed chamber round balers. The new range offers an option of two different cutting devices which can be controlled from the cab. The range can also be supplied with large size bearings for the cutting system which together with the heavy duty bearing on the rollers makes it especially suitable in heavy conditions.
Landmec Pottinger will be exhibiting two new rakes giving a working width of up to 12.5m whilst Reco will be demonstrating the newest model in its Fella range of rakes which has a hydraulically adjustable working width of between 8.8m and 10m.
Strautmann has introduced the new concept of an accelerator roller to its range of feeder wagons. This is specifically designed to reduce power peaks and stress on the driveline system. This, combined with an improved pick-up reel design, will reduce fuel consumption by as much as 10%.
AG, Lely is showing the Lely Tigo Loader Wagon for the first time at a live event. The new model will have increased knives and easier access to the cutting bar to make servicing and knife changing more accessible.
Krone is showing the new model in its big M range of self-propelled mowers which will reduce fuel consumption whilst on the road, has an improved cooling system and an auto-reset system for easy repair of damaged discs. Krone is also launching the MX range of rotor forage wagons specifically designed for medium sized farms.
A number of new products will be making their UK working debut on the CLAAS UK stand at this year's ScotGrass event. The range of new equipment includes the new 8.4m and 9.1m wide Disco 8400C and 9100C Contour triple mower conditioners; the Liner 4000 which has a maximum working width of 15m; the new Rollant 454 and 455 round baler range; the new heavy duty PU300 pick-up for Jaguar 900 series forage harvesters and the latest Variant balers with a drop-down floor in the chopping unit.
The Volac Film Clinic will be making its debut at ScotGrass and will feature the launch of a new film calculator designed to help farmers and contractors save time and money when bale wrapping this season. Volac is encouraging them to bring along details of their wrapping operation, such as number of bales currently wrapped per roll, machinery cost per hour and its roll capacity, to use with the calculator.
Visitors to the Opico stand will be able to see for the first time, a working demonstration of its new Sward Slitter designed to remove surface compaction and capping and aerate the sward root zone, thereby stimulating grass growth.
Other new products on display at Scotgrass 2010 will be a new bucket grab system from Albutt, specifically designed for telescopic handlers and loaders and a Reck grass silage spreader, from Forage Wagons South West, for use in the clamp. This machine spreads the crop evenly on the clamp making better silage. Also Rolland will be showing its new range of low profile compact muckspreaders designed for hilly areas. Finally DLF Trifolium will exhibiting its unique fertiliser seed coating, iseed which is designed to feed the plants rather than the weeds.

Scotgrass 2010 Exhibits Fully Booked


Something for Everyone at NSA Scotsheep 2010


Call for Farmers to Get Involved with Open Farm Sunday