Landini & Valpadana Dealer's Business Boost
2010-04-01
An agricultural machinery retailer who supplies new tractors to farmers and fruit growers in Hereford and Worcester is celebrating a move into new premises.
Richard Tooby with a line-up of Valpadana and Landini tractors at his new premises where potential customers can view the products under cover.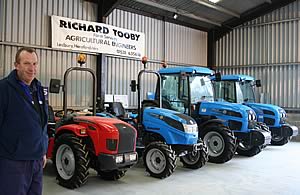 Richard Tooby says the former packhouse his business has purchased at Putley near Ledbury will make life easier and should give a real boost to his agricultural equipment sales and service operation.
"We now have much nicer working conditions for the workshop, parts store and offices and we've got room to expand in future," he says. "What's more, customers can now inspect our new tractors under cover – so even if it's a bad day, they can take their time examining the machines to decide what would suit their needs the best."
Richard and Jenny Tooby have run the business – Richard Tooby Farm Services – for the past 19 years. They have the local agency for Landini and Valpadana tractors from one of the World's biggest manufacturers, the ARGO Group, and also a number of farm implement franchises.
"We have livestock and mixed farms among our customers but about 60% of our business is with fruit growers," says Richard. "Perhaps that's not surprising in this area but we've built a reputation for identifying the right tractor and specification for customer needs and then looking after it in service."
The business has been particularly successful introducing a high clearance version of the Perkins-engined Landini Powerfarm tractor. With large diameter driven wheels on the front axle as well as at the back, this machine has more ground clearance than usual.
As a result, strawberry producers in the area have been able to grow their crops in taller, deeper beds, which provide better growing conditions and makes hand picking easier.
The Landini Trekker 90F crawler tractor is among the more unusual machines supplied to local fruit growers and nurseries
by Richard Tooby.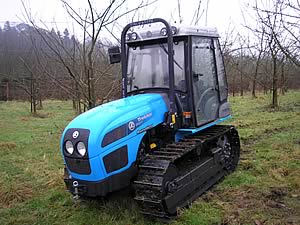 Also attracting strawberry grower attention is the Valpadana 6500 range of compact four-wheel drive tractors. Special axles allow these machines to work between growing tables little more than a metre apart, yet with a choice of 46hp and 54hp engines they are genuine hard-working tractors.

The Landini Trekker 90F is another unusual tractor; it's an 83hp Perkins-engined 'crawler' that runs on steel tracks rather than rubber tyres. It is no more than 1460mm wide but the track configuration gives it a low centre of gravity, which makes it very stable.

"It's a compact machine and the tracks give it a light tread on the ground," says Mr Tooby. "But they also give plenty of grip in conditions that would have a wheeled tractor scrabbling."

A local nursery has just taken delivery of a Trekker for planting, tending and lifting fruit and ornamental trees when conditions are often difficult underfoot.

North Wales McCormick Dealers Plan Lely Silage Demos


Hamilton Tractors Showcase Latest McCormick Tractors at Open Day


New Fertiliser Spreader Options from Kuhn