Hamilton Tractors Showcase Latest McCormicks at Open Day
2010-03-31
Machinery dealer Hamilton Tractors (Carnwath) Ltd will showcase the latest McCormick tractors at its first open day since winning the local franchise. The event also celebrates being awarded a larger territory that now extends further east to take in Midlothian as well as all of Lanarkshire.
Jan and David Walkinshaw of Hamilton Tractors are celebrating sales success and an expanded McCormick territory at their open day on April 9.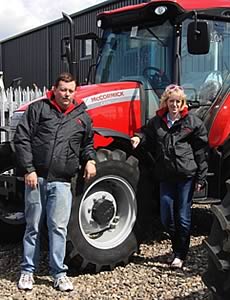 The event – being held next Friday, April 9 from 9am to 5pm – will be the first open day for Jan and David Walkinshaw since they acquired the business towards the end of 2008.
"We made a good start with McCormick, retailing a number of tractors last year," says David Walkinshaw. "Now it's time to open our doors and show customers not only the latest models in the McCormick range but also the high standard of parts and service back-up we provide."
In addition to the stock held at Hamilton's premises in Peebles Road, Carnwath, parts manager Arthur Whitelaw can draw from the £4 million-worth of around 12,000 parts held by McCormick distributor AgriArgo UK at its headquarters near Doncaster.
"Parts can also be ordered from the global store in northern France if necessary, with next-day delivery available if needed," adds David Hamilton. "That's the sort of back-up that tractor operators rightly expect these days."
Farmers visiting the Hamilton Tractors event will enjoy a 10% discount on parts ordered on the day.
With a product range spanning 28hp to 255hp – plus the highly versatile Tele-Trac telescopic handler – the McCormick range is structured to cater for most farmers' power requirements.
In recent weeks, new versions of the McCormick MC four-cylinder and MTX six-cylinder tractors have become available.

Both have acquired new four-post cabs as used on the bigger XTX and TTX models, giving drivers better all-round visibility and some improved comfort and convenience features. The MTX range has also been given XTX-style bodywork and a step up in power with the return of the MTX150 model.
This machine has a 141hp version of the McCormick BetaPower 6.7-litre six-cylinder engine with mechanical fuel injection. Although that is a little less than the peak output of the previous version, the motor more than makes up for that apparent deficiency by developing more power and a lot more torque lower down the rev range than its predecessor.
"With peak torque 7% higher at 625Nm and power output sustained further down the rev range, the new MTX150 comes pretty close in real-world performance to the old model," says Paul Wade, McCormick product specialist. "I doubt whether operators moving from one to the other will notice any difference – but they will be able to use the engine's low speed power and torque to shift up and maximise fuel efficiency."

New Fertiliser Spreader Options from Kuhn


Agricultural Engineers Boost Student Membership


Farm Dispersal Season Begins With Sale of Government Think Tank