North Wales McCormick Dealers Plan Lely Silage Demos
2010-03-31
Two farm machinery dealers in North Wales – Harrison Machinery based at Nantglyn, Denbigh and PGF Agri at Llanerch-y-Medd, Anglesey – are staging a two-day silage-making extravaganza in May.
The unique McCormick Tele-Trac can fill the diet feeder in the morning and mow grass in the afternoon.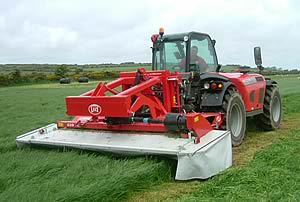 They are teaming up with two of the leading manufacturers they represent across the region to show farmers and contractors the latest McCormick and Lely equipment in action.
"Weather permitting, it will be quite a show," says Eric Harrison. "We'll have new tractors from the McCormick range powering the latest grass equipment from Lely."
Dylan Williams of PGF Agri emphasises there is nothing like a working demonstration to help evaluate what best suits an individual farmer.
"Seeing the equipment in action is what it's all about," he says. "Farmers will be able to weigh up different silage systems as much as individual machines and see the best McCormick tractors to use with them."
The event kicks off on Tuesday, 18th May with the Harrison Machinery demonstration at Plas Chambres Farm near Denbigh. It then moves on to PGF Agri at Plan Gynna Farm, Llanerch-y-Medd, Anglesey on Thursday, 20th May.
McCormick CX, MC and MTX tractors with their new four-post cabs will likely be among the machines making their working debut in Wales, including the new MTX150.
This model makes a return to the range with peak output of 141hp – a little less than its predecessor. But the 6.7-litre engine develops more power and torque than the 'old' MTX150 lower down the rev range, so operators can use these characteristics to get similar performance while optimising fuel efficiency.
The latest McCormick tractors and Lely grass equipment
will be in action at the Harrison Machinery and PGF
Agri demos in North Wales.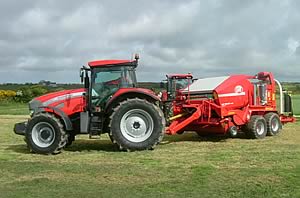 The bigger McCormick XTX and TTX tractors will also be in action, demonstrating how their unique eight-speed powershift makes life easier when baling or chopping grass in variable swaths and on up-and-down terrain.
Versatility is the key feature of the McCormick Tele-Trac – a high-performance telescopic handler that can work as a tractor using its three-point linkage, pto and reversible driving position to good effect in the field.
Lely newcomers at the event include the company's first self-loading silage wagon; the Tigo is being seen in action for the first time in Britain this year and represents a range that caters for farmers doing DIY silage and contractors.
The Lely-Welger RP245 round baler with uprated roller and chopping system bearings will also feature, together with the newly-upgraded Splendimo plain and conditioning mowers, which are lighter and have a more effective swing-back mechanism.
"Anyone serious about silage-making should come to see what these leading manufacturers have to offer," says Dylan Williams.

McCormick – Lely grass equipment demonstration
18th May 2010
Harrison Machinery (10am to late afternoon)
Plas Chambres Farm
Upper Denbigh Road
Denbigh LL16 5UR.
20th May 2010
PGF Agri (10am to 4pm)
Plas Gynna Farm
Llanerch-y-Medd
Anglesey LL71 7AG

Hamilton Tractors Showcase Latest McCormick Tractors at Open Day


New Fertiliser Spreader Options from Kuhn


Agricultural Engineers Boost Student Membership