Fort Dodge Awarded EU Licence for Zulvac 8 Bluetongue Vaccine
2010-03-15
With effect from 15 January 2010, Fort Dodge Animal Health has been awarded an EU Licence and marketing authorisation for its range of Zulvac® vaccines against serotype 8 Bluetongue (BTV).
Zulvac 8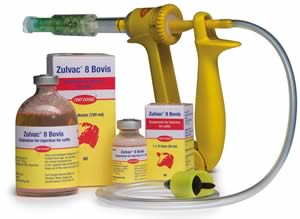 The vaccines are Zulvac 8 Bovis, indicated for use in cattle, and Zulvac 8 Ovis for use in sheep.
Fort Dodge, now part of Pfizer Animal Health, is only the second company to gain EU approval for its serotype 8 BTV vaccines. The products are already in use in countries including the UK, Belgium, France, Germany, Italy, Spain, Czech Republic and Switzerland. The EU licence supercedes existing national temporary permits, giving veterinary surgeons in all member states full access to the Zulvac 8 range, subject to the national BTV policies in place in each country.
Commenting on the award of the EU Licence, Marc Snacken, Business Manager Livestock, Fort Dodge Europe, Africa and Middle East, said: "The strong focus on vaccination against Bluetongue by national governments and farmers during 2009 has contributed to a significant reduction in cases of the disease, providing a welcome boost for the livestock industry during a difficult economic time.
"As we move into spring 2010, it's heartening to see some national governments reaffirming their commitment to vaccination as the most effective way of ensuring that we can control this disease, which causes great suffering to infected animals and seriously damages the agricultural economies of affected countries.
"With this in mind, we're delighted to have received an EU licence for our Zulvac 8 vaccines. It's recognition of our continuing efforts to provide products and services which help to control Bluetongue. It adds to the licences and temporary permits we've already received for our serotype 1 vaccines in some European countries."

Animalcare Group Delivers Strong Financial Performance


Taking The Animal Welfare Option


New Veterinary Pharmacy Courses at Harper Adams