Nuffield Scholar to Study the World of Dairy Farming
2010-03-30
A study that will help ensure the future of pasture-based dairy farming in the UK has won a coveted Nuffield Farming Scholarship for a West Yorkshire farmer.
Nigel Pulling, Chief Executive of the Yorkshire Agricultural Society with Nuffield scholar, at Mr Fewster's farm.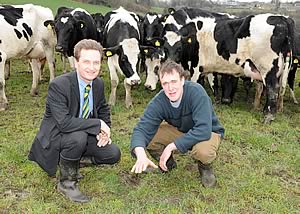 Malcolm E Fewster, who runs Listing Mill Farm near Cleckheaton along with other members of his family, was sponsored by the Yorkshire Agricultural Society in his application to the Nuffield Farming Scholarships Trust. Mr Fewster farms 130 acres in the Spen Valley, keeping 95 New Zealand Friesian cows plus followers.

The Society, best known for organising the Great Yorkshire Show, is committed to promoting and supporting the agricultural community.

Nigel Pulling, Chief Executive of the Yorkshire Agricultural Society, said:
"The farming industry still faces so many challenges and it's vital we take whatever steps we can to ensure it survives. Malcolm's research will prove very valuable in helping pastoral dairy farmers understand how they can adapt to making their industry as successful as possible, and the Society is proud to support him."

Over the next 18 months Mr Fewster intends to travel to South America, Australia, New Zealand, Ireland and France to look at their methods of pastoral dairy farming. Having already attended the Nuffield Scholars' conference in Washington, next month he visits Ireland to look at grassland research, in Australasia, he will examine global milk marketing and managing the carbon footprint in relation to cattle production, and in France he will study cheesemaking.

At the end of his studies, Malcolm will present his report to the Trust's annual conference in 2011 and to Council members of the Yorkshire Agricultural Society.

"Ireland and New Zealand are two of the most forward-thinking grazing countries for dairy farmers, while South America will be exciting as it has a lot of new dairy farming," explained Malcolm.

"The North American Amish community is really successful at marketing pastoral-based milk products so it will be very interesting to visit them, while in France the difference between pasture-grazed milk and that produced through other feeding methods is really noticeable in the cheese-making regions."

He added: "I truly believe that grazing-based dairy products are the best you can have – not just in taste but in health benefits. I'm passionate about helping make the industry as successful as it can be and I think my studies over the next 18 months will be really valuable. I'm grateful to the Yorkshire Agricultural Society for sponsoring me – without their support, I wouldn't have this opportunity and I'm very much looking forward to it."

Nuffield Farming Scholarships are prestigious agricultural awards recognised around the globe. They promote leadership and the implementation of innovative agricultural practices through worldwide study.

New Head of Agricultural Mortgage Corporation


£50,000 Secures Future of Children's Countryside Day


Northumberland has UK's Most Beautiful Farm